PSL
Player Perspective: Challenging for the PSL crown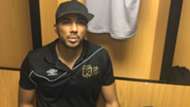 ---
PLAYER PERSPECTIVE:    SHUAIB WALTERS       Follow on Twitter
---
There has been a bit of buzz regarding the success that Cape Town City as a team has had thus far and even talks about us being title contenders.
While it may be encouraging, in my view it may be slightly premature to call us title contenders just yet; but we can confirm a top five finish!
With five teams being termed contenders, I am just focusing on one game at a time and not looking too far ahead. Had it been just two teams fighting for the title now, it would have been a whole different mindset.
Real Madrid, Juventus, Atletico? Monaco & Mbappe fear nobody
That being said, we do have a firm belief that we can bring the trophy home. Our current accomplishments as a new team in the League and what we have thus far achieved has given the team the confidence that we are able to compete and succeed.
As is the case with football, we need to do what we can to get the results we need. With the five teams still having to play each other, we certainly hope that the outcome of matches played by the rest of the league work in our favour.
To compete with and challenge the best, our training from the start of the season to the end is very important. Because football training has become so scientific, training is designed so that we hit peak fitness at the right time and then we need to maintain it.
During the first half of the season we concentrated on high intensity training sessions to reach full fitness. Once this was accomplished our training sessions decreased in number but were still carried out at high intensity to maintain that level of fitness.
This method has proven to be successful based on our performances.  Since the start of the second half of the season we have racked up 20 points from 24 points and that has catapulted us further into the spotlight.
Player Perspective: On the Road
The extra attention means that we have been proving ourselves to be a force to be reckoned with, meaning that expectations are higher now. Players now have a lot more pressure to perform well and it is significantly important for each player to mentally prepare to deal with that type pressure. Not knowing how to cope can influence a player's performance in a negative way if he is not mentally prepared.
In addition to being stronger mentally as individuals, we need to be mentally stronger as a team too, with the team working towards a united goal. In addition to not wanting to let ourselves down, we have a strong support base that we want to keep happy too.  We have proven that we play a decent brand of football and our supporter base has grown significantly.
With important games against Bidvest Wits (Result: 1-1 on Wednesday) and Kaizer Chiefs on the 25th April , we recognize that every point is a great boost for us and our standing in the League. All in all I think the best way for our boys to prepare for a possible title contender status is to concentrate and prepare for each individual game and to mentally start building the goal of winning the League this season.
Till next week!
This column is brought to you by   Lotto Sports Apparel.