Player Perspective: In camp with Bafana Bafana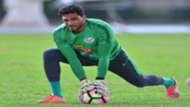 My call up to the national squad started off with some confusion on my part as I was not even aware I had made the squad. But then I started receiving messages from friends and family congratulating me. Still unawares of why I was receiving these messages I asked one of my contacts why he was congratulating me as I initially thought it was for my recent Player Perspective articles on Goal.com. Imagine my absolute surprise when he told me it was for the Bafana call up I had received. I was shocked. This has been a goal I've been working towards for a long time and needless to say I was ecstatic as this was a very auspicious moment for me.

This was my first national call up in 7 years and it feels somewhat different as I am older than most of my Bafana team mates now. I also don't know many of them on a personal level, so it was all quite new for me. Fortunately my team mate and captain Lebo Manyama also received a call up so I had one of my fellow Cape Town City team mates also in the squad.

The past week in the Bafana camp I spent quite a bit of my time bonding with the other players and getting to know them better, as most of them I only know of, and not personally, which I'm hoping to work on going forward.  I also spent a lot of my free time with Itumeleng Khune, catching up on what had been happening since our last Bafana camp together in 2010.

The camp environment itself is similar to club level camp, as players spend their time playing games like foosball, PlayStation and pool in their free time. The training, however, is of a much higher, more intense level, which is understandable as you are training with the best the country has to offer including the European based players. An example of the amount of skill at national level is that at club level shots on target would be 6 out of 10 whereas at national level shots on target would be 9 out of 10.

I was also fortunate enough to steal a few minutes of Danny Jordaan's time and to pick his brain on his vision for South African football and future plans, which made for a very interesting and enlightening conversation. He explained to me why the two friendly matches were organized with Guinea Bissau and Anglo. This was specifically to prepare our team for the match against Cape Verde, as most of their players play in 2nd division Portuguese clubs and these international friendlies would give our players a feel of the their playing style.

I believe the matches showed that Bafana has a team for the future and the blend of European based and South African based compliment each other well.

Till next week!