Everton
Pickford: I don't think I'll be putting out any more tweets about Nando's!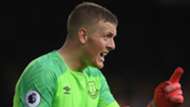 Everton's Jordan Pickford has reduced his social media presence but looks back on his teenage tweets with fondness.
During this summer's World Cup, England fans took to sharing some of the goalkeeper's more entertaining posts from years gone by.
Pickford says the tweets, which included his thoughts on takeaways, Game of Thrones and The Courteeners, are a product of his normal upbringing. 
Think nandos is on the cards

— Jordan Pickford (@JPickford1) October 15, 2013
"It was a great craic," the 24-year-old told reporters. "But I don't think I'll be putting some of the tweets about Nando's and Sky up again any time soon!
"I still think The Courteeners are good, though. I'm devastated I can't go when they're playing next month. It's at the Echo (Arena) as well.
"All that's part of the craic. I wish I could do stuff like that now, but I don't think it would get taken the same way."
The stopper joined Sunderland's academy at the age of eight and had six loan spells before cementing his place in the first team.
He impressed enough during the 2016-17 Premier League campaign to earn a £25 million ($32.7m) switch to Everton, despite the Black Cats being relegated. 
"I'm just a normal lad from where I grew up. All my roots are where I'm from," he said. "You're grounded and you stay level headed where I'm from.
"My mam and dad have brought us up well. I'm just a normal lad from Washington.
Wish the parents would pay for me to have sky i'n my room, freeview i's soul destroying at this time of night

— Jordan Pickford (@JPickford1) September 13, 2012
"I have got Sky in a couple of rooms now though!
"I was new to Twitter then, so I didn't know what the hell I was tweeting. At least everyone's laughing about it."
Pickford starred for England in Russia, featuring in all seven of their games and helping the Three Lions to a penalty shootout win over Colombia in the round of 16.
"Obviously playing at the World Cup has changed my life," he added.
"That was my dream, to play at the World Cup, and I knew that if the opportunity came my way, I would take it.
"I hope that's what I've done. But obviously, it changes your life.
"There's a lot of expectation on you to perform week in, week out. That just makes me want to grow, and become better and better, because people put more pressure on you now. If you deal with that pressure, which I'll do, then you become a better person and a better goalkeeper."