UEFA Champions League
Manchester City were 'lucky' against Monaco - Guardiola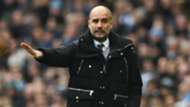 Manchester City manager Pep Guardiola conceded that his side were "lucky" at times during their 5-3 win over Monaco in the Champions League on Tuesday.
The French side were up 2-1 in the second half of the round-of-16 first leg, and looked set to take a commanding advantage when Radamel Falcao stepped up to the penalty spot in the 50th minute. But the Colombian's spot-kick was poor and easily saved by Willy Caballero. 
City took advantage of another piece of fortune eight minutes later when Sergio Aguero's tame effort was fumbled into the net by Monaco goalkeeper Danijel Subasic to make it 2-2. 
City & Monaco show why we love football!
"A lot of things happened but in the moment we were lucky," Guardiola told BT Sport after the match. 
"We were stable mentally. The old and young guys in the team played amazing. To live this experience helps us a lot in the future.
"Monaco has more history than us in the competition and you need this kind of experience to learn and improve. 
Manchester City & Monaco set Champions League record​
The Spaniard's side looked defensively fragile in the match, but eventually managed to blow away their high-scoring opposition with four second-half goals. 
"We think in attack. Attack, attack, attack," Guardiola said. "Monaco score maybe 80 goals in one season and attack with a lot of people.
"They are physically strong and are a top, top team. That's why they're top of the league. That's why we take a lot of credit with this result.
"The result is OK. It could be better, could be worse, but it is what it is."
Even with a two-goal advantage, Guardiola knows he can take nothing for granted in the second leg on March 15.
"Of course anything can happen in Monaco and we have to score goals," the City boss said.