Cristiano Ronaldo
Pele: When Ronaldo has scored 1283 goals, we'll talk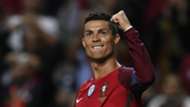 ---
EXCLUSIVE
---
Pele says he was happy to see Cristiano Ronaldo overtake his mark for international goals last week, but claims the Real Madrid forward has a long way to go before he can be in his illustrious company.
Ronaldo hit a hat-trick for Portugal in a 5-1 win over the Faroe Islands in World Cup qualifying on Thursday night to take his international tally to 78, the first of those a spectacular scissor kick early on in the game.
"I saw the goal, It was really special," Pele told Goal in an exclusive interview. "It was a really nice play."
Pele's 77 Brazil goals came in just 92 appearances, while the former Santos icon also won three World Cups for his country (in 1958, 1962 and 1970). And Ronaldo, who helped his nation bring home the Euro 2016 trophy last year, now has 78 strikes in 145 games for Portugal.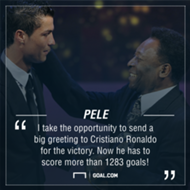 "Of course, these are different times," Pele said. "But the beautiful thing about football is the goals. And I take this opportunity to send a big greeting to Cristiano Ronaldo for that victory."
However, in reference to his total career goals record, the three-time World Cup winner added: "Now he has to score more than 1,283 goals!"
*** Pele was speaking at a Snickers event that saw competition winners from over 20 countries come to Barcelona to play with the legend ***