African All Stars
Oyo state agog for 2017 Peller Unity Cup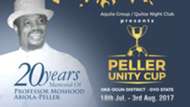 A total of 300 players from 20 teams in 10 Local Government Areas would compete for one trophy at the Peller Unity Football Cup which will commence on Tuesday, July 12 and end on Thursday, August 3, 2017 at the National Youth Service Corps Orientation Camp, Oyo State.
The press conference, which took place on Thursday, June 29, 2017, in Oyo State, had in attendance House of Chiefs, 10 Local Government Area youth representatives of Oke-Ogun District, members of Oyo State House of Assembly, Oyo State Commissioner of Works, Information and Youth and Sports, representatives of the Oyo State Football Association and Representative of Oyo State Governor.
The organizer of the tournament Chief Shina Peller, during the press conference placed emphasis on the motive behind the Peller Unity Cup, saying it was based on true, honest and non-political intentions and was aimed at bringing football development to the youths of Oyo State through the 20 year remembrance of his late father, Professor Moshood Abiola Peller.
He expressed his willingness to commence series of projects in the state as well as support the participants after the football tournament.
Winners of the competition will smile home with N500,000 while the runners up and third-place team get N300,000 and N150,000. The Most Valuable Player and topscorer will be handed N50,000 each.