PSL
Orlando Pirates forward Morrison finally opens up about his arrest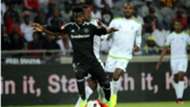 Orlando Pirates forward Bernard Morrison has finally opened up about reports that he had stolen a car last April.
The Ghanaian midfielder-come-striker was arrested on charges of armed robbery in Johannesburg. 

"Yes, there were stories out there that I have stolen a car and the media took it up without investigating. It was disappointing but there was nothing I could do," Morrison was quoted on Ghana Web.

"But the truth is that I never stole any car. The guy who cooked the story actually owed me some money. He refused paying after several attempts so I decided to report him to the police," he said.
However, the charges were dropped after the case was withdrawn.

"When he realised I was going to the police, he drove to my house and asked me to keep the car as collateral until he brings the money," he indicated.

"The next moment, I heard that I have stolen a car. The police came and I explained to them," Morrison explained.

"I was saved by my CCTV. The footage from the video showed he drove himself to the house so there was no way I could have stolen the car," he added.
"They then kept him behind bars for a week. So I never stole any car," he concluded.
The 23-year-old player made nine appearances in all competitions for the Buccaneers in his debut season.