Transfers
Orlando Pirates could be punished as Mamelodi Sundowns confirm Shonga contract details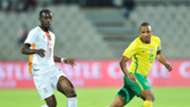 Mamelodi Sundowns have revealed the details of the contract which was signed by new Orlando Pirates striker Justin Shonga.
The Zambia international joined the Buccaneers from Zambian side Nkwazi FC last week, but Sundowns have since confirmed that the player signed a long-term deal with them.
"Yes, the boy signed a contract with Sundowns in July. He signed a five-year contract. It was three years with an option to renew with two years," Sundowns media officer Thulani Thuswa told IOL.
"Our legal team is having a look at the matter and we will then refer our contract to the Premier Soccer League. We are pursuing the matter," he continued.
"Shonga was supposed to join us in January, but couldn't join us in this transfer window because we have already exceeded our foreign quota," the club official concluded.
When contacted by the same publication, Pirates administrative manager Floyd Mbele insisted that Shonga is their player.
"All I know is that Shonga is our player. I'm not aware of any other contracts," Mbele said.
Shonga made his competitive debut for Pirates as they drew 2-2 with Polokwane City in a PSL match last weekend.
One of South Africa's top lawyers, who spoke to IOL on condition of anonymity stated that Pirates may be in danger of losing the point they earned against Polokwane if Shonga's contract with them was not valid.
"The second matter will be, did Pirates know when they signed the player that he has already signed with Sundowns?" the unnamed lawyer said.
"If yes, then Pirates might be docked points in each and every game that Shonga played. In this case he has already played one, which means Polokwane City will be given three points in this case since the game ended in a 2-2 draw," the lawyer continued.
"But if Pirates didn't know about the contract that Shonga signed with Sundowns, if there is any, then the player is in trouble. Pirates can't be punished if they didn't know about the first contract he signed before he signed with them. The player may face the sanction where he will be banned for a certain number of matches.
"I believe Sundowns will refer the matter to the PSL, and the PSL will give both sides an opportunity to come up with a solution. If they fail (to do so), then the matter will be referred to the PSL Dispute Resolution Chamber," the lawyer concluded.