Simba
Okwi could feature against Stand United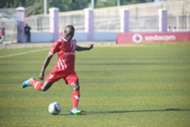 Ugandan Emmanuel Okwi is in line to return to the Simba squad this Friday against Stand United after stepping up his recovery in training, according to team doctor, Yassin Gembe.
Gembe told Goal that Okwi who sustained a leg injury in the Ligi Kuu match against Mbao FC on Monday is looking good and sharp in training and has impressed the club's fitness staff and could be back for in the match day squad tomorrow.
"I am glad to say that Okwi is doing fine and could be fit enough to feature in the next match on Friday, we still looking for him to see out his development," said Gembe.
Okwi grabbed two goals against Mbao and was replaced in 12 minutes before the final whistle following injury. 
Okwi is currently the Ligi Kuu's leading scorer with 16 goals.