Sudani Premier League
Okrah terminates contract with Sudanese champions Al Hilal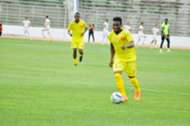 Sudanese champions Al Hilal have announced that Ghanaian midfielder Augustine Okrah has officially left the club after a mutual termination of his contract.
The 24-year-old joined the Blue Waves in 2016 in a two-year deal from city rivals Al Merriekh and went on to score ten goals in 26 games as they won the Sudanese Premier League title last season and reached Sudanese Cup final.
"Augustine Okrah and Al Hilal have consensually resolved his contract that would have tied him to the club until November 2018. The club will pay him all his outstanding earnings and wishes him well," a club statement read.
The former Ghana Premier League best player and topscorer believes he has paid his dues and wants new challenges elsewhere.
"I have paid my dues and believe it's time to move on that's why I agreed on termination of the contract although, I had one year left," Okrah told Goal.
"After three years in Sudan, I was able to win two league titles, one with Al Merriekh in 2016 and Hilal in 2017 as well as one FA Cup title. Obviously, I did enough there and would be remembered for the good and bad.
He added: "Many players would've succumbed to pressure, especially when you joined Hilal from Merriekh as one of the best players of the latter."