Ghana
Nyantakyi to step down as Ghana FA president in 2019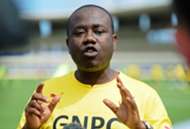 Ghana Football Association president Kwesi Nyantakyi has revealed that he will not seek for another four-year term of office after his current tenure comes to an end in 2019.
The 47-year-old became president of the body in December 2005, succeeding Dr. Nyaho Nyaho Tamakloe who earlier resigned from the position.
Nyantakyi was re-elected to a third term of office in 2015 to end in 2019.
"I have no plans to entrench myself in the position as it is a privileged post. At a point, I would have to leave and there is no better time to do so than after 2019 when the applause is very loud,'' Nyantakyi told Graphic Sports.
''I don't think I'm the only person capable of leading Ghana football. I can do so much but not everything. Besides, I think we all must take a page from the wind of change blowing in Fifa on reforms which among things place a limit on the term of president,'' he added.
Nyantakyi, who doubles as Wafu Zone B president, was elected onto Fifa Council last month in Addis Ababa.
Goal understand that Nyantakyi is likely to be appointed as Caf's first vice president to work under Ahmad Ahmad, who succeeded Issa Hayatou.