Ponte Preta v Atlético Mineiro
No time for change - Olympian Rogerio Micale on the ropes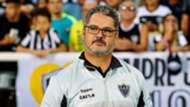 This week, Brazilian football celebrated one year since claiming its first Olympic gold medal.
Column inches looked back to one June afternoon when the greatest opportunity of one man's career fell into his lap.
Just weeks before the Rio Olympics, Dunga was sacked and Rogerio Micale was asked to take the first step on the journey to eradicating the scars of greatest embarrassment of A Selecao's history – 'The 7-1'.
---
READ MORE: 
'He'd given up' Brazilan gem Luan | Brazilians making transfer moves | Brazil's Ballon d'Or complex
---
A studious, progressive and revered youth coach, Micale set out a carefully considered plan for his approach at the Games, insisting he required an extended period of training prior to the tournament. It also provided a fatigued local media the chance to get to know the new face of their Olympic campaign.
He instantly impressed. While his predecessor was cagey and aloof, Micale was only too happy to expand the conversation beyond football, eruditely and gregariously engaging with a press core the CBF was trying to get back on side.
"Brazil can't be Spain or Germany. We have to know ourselves, reflect on what our football is, who we are, and create a concept from which to work," Micale contended.
"Our essence is creativity, improvisation, the 1vs1, the dribble. But that is no longer enough to be competitive. Just as the mobile phone has become a computer, football has evolved."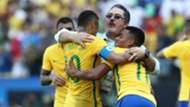 Micale practiced the modernity he preached. His Selecao Olimpica would remain compact, press high, reduce space for the opposition, dominate possession and attack as a single unit.
It was a radical approach. For decades, Brazilian sides up and down the country had operated almost identically – defending very deep with two holding midfielders, leaving as much space between the lines as you'd find anywhere in world football.
It was also an approach that took time to implement. The team looked dazed and confused in their openers, earning heavy criticism from the locals after slumping to two goalless draws.
But Micale had prepared had a 'Plan B' and for the third game made a key change, switching to a 4-2-4. Destroyer Walace replaced the more expansive Thiago Maia in midfield, adding the stability required to inject Gremio forward Luan alongside the then misfiring Golden Trio of Neymar, Gabriel Jesus and Gabriel Barbosa.
A dynamic Brazil romped to the final in style before overcoming Germany on penalties, vitally lifting the mood ahead of the Tite era. "We can look to the future with more confidence and more pride," said Micale. "Brazilian football is not dead, we can achieve great things."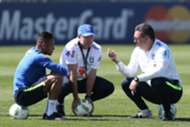 Not with him. Six months later, Brazil's historic obsession with results at youth level cost him his job as U20 boss, after a fifth-place finish in the South American qualifiers.
But the 48-year-old had earned himself some credit and in July stepped into senior football to take over at Belo Horizonte giants Atletico Mineiro, where he'd previously held youth positions.
"He'd earned a reputation of a daring and modern coach and now he had the chance to work with a huge club with big stars like Robinho, Fred and Elias," says Goal Brasil editor Felipe Torres. "But Galo have not been meeting expectations."
Once again, it's been a tricky start as his new players struggle to implement his ideas – Galo have won just three of his first 10 matches in charge. That run also saw them eliminated at the round of 16 of this year's Copa Libertadores by Jorge Wilstermann of Bolivia.
"Our fans want an aggressive, dominant team," Micale said at his presentation. "[But] I must adapt to the characteristics of the players, not the other way around. I don't want a possession-based style if they players can't play like that."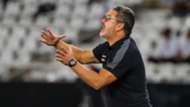 It's proved a tricky balancing act. An impressive 2-0 victory over Flamengo earlier this month provided some optimism, but last week's humbling to Fluminense has Micale on the ropes and his recent switch to a three-man midfield has caused plenty of debate.
Some believe it's merely a fudge to compensate for underperforming stars. "Robinho is out of the team and young players have come in. It is risky tactic that may lead to a complicated situation," says Torres.
Others see it as innovative. "Three in midfield provides defensive security, but all three must also have the quality to pass and to arrive in the attack, which is most important in finding that balance," says midfielder Yago.
Balance is in short supply in Brazil and, with his side languishing down in 13th with 17 matches remaining, reports suggest defeat this coming weekend to Ponte Preta could spell the end of Micale's short stay. He has once again struggled to translate his ideas to the players. 
However, it is perhaps worth noting that Micale is working with a group of players who have spent their careers operating in a clearly defined tactical status quo.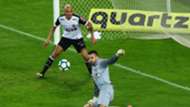 While once a beacon of footballing pioneers – Brazil invented the back four, arguably formed the first real 4-2-3-1, and were early users of false no.9's and inverted wingers – Brazilian football as a whole has turned its back on innovation in recent decades.
That is partly because, in a nation where the average coaching position lasts around 15 games, there is no time to try anything new. 
Sixteen coaching changes have taken place just past the halfway point of Brasileirao 2017 – only one left on his own accord, in order to replace someone else who'd just been sacked. Four teams are on their third coach of the season.
And jobs are invariably filled by the same coaches playing the same systems. Micale is one of a few rare newcomers who offer something different. Very few are afforded the time to make it work. 
A premature exit for Micale would hardly be surprising. It would also be a missed opportunity for an interesting coach, a great club, and perhaps even for Brazilian football itself.