Liverpool
No such thing as a friendly! - Klopp laughs off Mourinho talk as Liverpool prepare for Man Utd clash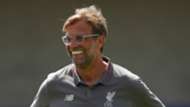 Don't call it a friendly.
It's not Anfield, it's not Old Trafford, but when Liverpool and Manchester United meet, the world always watches.
On Saturday evening, scores of eager fans will descend on Ann Arbor, Michigan for a pre-season fixture, the sides' International Champions Cup clash at the city's 'Big House' stadium.
Around 100,000 tickets have been sold for the game. Ann Arbor's population is just 120,000.
On Friday, Jurgen Klopp got his first look at the arena, which is the biggest in America. His Liverpool side trained on the pristine surface, watched by hundreds of enthusiastic locals.
"It's a really nice story that we come here," Klopp told reporters at his pre-match press conference. "It's not often you get the opportunity to play in the second biggest stadium in the world. It's an impressive building, it's cool.
"It's pre-season, but it's United against Liverpool, Liverpool against United so it's a big game. People in America obviously were waiting for that game, or at least 100,000 people were! We're really looking forward to it."
The German was in good spirts as he fielded questions for a dozen or so journalists inside the stadium. Even an initial problem with his microphone couldn't darken his mood. "They'd rather hear from you anyway," he told his press officer, whose mic WAS transmitting sound.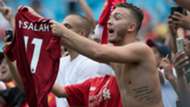 Unsurprisingly, Jose Mourinho was on the agenda, with Klopp asked about the Manchester United boss' recent comments about the media "demanding" that Liverpool win the Premier League following their summer spending spree.
It was put to him that Mourinho seems to like speaking about what he's doing, and what Liverpool are doing…
"It's not easy to reach that point, eh?" Klopp smiled, pumping his fists jokingly. "But what can I say about that?
"Jose can say what he wants to say, to be honest, and obviously I can do the same. But I'm not too much interested in Manchester United.
"I'm pretty sure they will do business as well in the next few days, but we know about our responsibility. We feel responsible only for our fans, for our owners, for the supporters all over the world, nobody else. That's the situation.
"We are ambitious, we never said anything different. We have to deliver; what that means exactly, I don't know in this moment. We will see that. But a big part of the job is to play football that our people like. That happened last year, probably the year before as well, and now we are in the situation where we want to make the next step.
"But the opponents don't sleep. We know that. It means our life is not easier because we brought a few players in. We only feel a bit better prepared than last year. That's all."
Liverpool trained without three players on Friday, with Loris Karius, Naby Keita and Gini Wijnaldum all missing the session due to minor injuries. Nathaniel Clyne, meanwhile, flew home on Thursday for the birth of his son.
Klopp confirmed he had exchanged messages with the full-back – "there are more important things than football, and babies are more important," he grinned.
He was asked about the battle for the right-back spot at Anfield this season. Trent Alexander-Arnold ended the season with the shirt, but will face competition from the fit-again Clyne and Joe Gomez. Interestingly, Klopp chose to throw the name of Rafa Camacho, the 18-year-old who has impressed on this tour, into the mix too.
"Having a lot of good full-backs is a perfect situation for the manager," he said. "They will all probably play from time to time, and if someone is in very good shape they will play more often."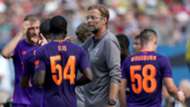 There were interesting comments, too, on the Premier League transfer window, and the decision taken by clubs to close it before the season starts. Klopp, generally, is in favour of the idea, but admits it has been a flawed one this year. Liverpool, at least, have been able to bring in four new signings in good time.
"I think the idea in general was good, and then we did it and nobody else pretty much did it!" Klopp laughed. "Then we did it in the year the World Cup is in, so it means the boys coming back three days before the transfer window is closing. That is not perfect.
"It ends earlier and I like it. We did our business pretty early, or at least parts of it. It's not perfect, but in the next few years I think other countries will adapt or we will adapt again.
"It's strange; in other countries the clubs are waiting a little bit, but in England the clubs cannot wait because in 12 days or 13 days it's closed!"
Klopp offered no update on the futures of Simon Mignolet, Lazar Markovic and Danny Ings, all of whom are expected to leave the club this summer. He was more forthcoming when asked about what fixtures such as this weekend's will do for the profile of the game in the USA.
"If you bring together 100,000 people to watch a football game that says a lot," he said. "And I don't think they all flew in from Europe! They are mostly from America and that's a good sign. 
"I've loved this game since I was three years old. Yesterday for the first time in my life I watched a baseball game. I was in Boston at a sold-out stadium. It's a different sport and people love it. The country is big enough for soccer to be big as well.
"So far the atmospheres here have been really good. Wherever we go, our supporters are already there. Last year we flew to Sydney for 15 hours to play a game and then went home. This club is so big that wherever we went in the world we would find Liverpool supporters!"
They will certainly find them on Saturday. Ann Arbor will be red this weekend, for sure. A friendly in name; in reality, for so many people it is so much more.