Liverpool
No Coutinho, no problem! Dazzling Liverpool send Pep's City crashing back down to Earth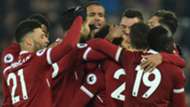 At the final whistle, Pep Guardiola had to rewind to last April to reacquaint himself with the feeling of stomaching defeat in the Premier League. Jurgen Klopp, meanwhile, circled back to September's 5-0 capitulation at Manchester City as he instructed Liverpool to serve their opponents with "pay back in a football way."  
That demand was acceded to in an authoritative manner at Anfield on Sunday, where the visitors waved farewell to a 30-game unbeaten streak in the division. 
This time around, there was no red card to skew matters as was the case at the Etihad, where Sadio Mane was sent off. Ahead of the showdown - the most exhilarating match-up in England - the Senegal international emphasised that his team-mates had the ability "to beat anyone."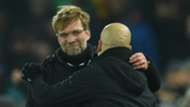 And on a bitterly cold Merseyside evening, with the wind weaving chaos, the hosts proved as much as they removed City's cloak of invincibility.
This was the fixture Philippe Coutinho - now Barcelona's record signing following his £142 million transfer last weekend - most thrived in and the question of how Liverpool would cope without their virtuoso understandably formed a sizeable part of the narrative heading into the clash.
The Brazilian contributed 20 goals in as many games this season for the Reds prior to his switch, and it was perhaps fitting that the player who took his place in the XI - the one who said the club have to "just move on" - was the scorer of the opener against the leaders.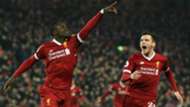 Oxlade-Chamberlain displayed a combination of power, pace and precision to hurt City nine minutes in. 
Roberto Firmino controlled a long Loris Karius goalkick, which fell into the path of the England international. He drove forward, dusting off Fernandinho in the process, planting a low, right-footed cracker past Ederson.
It was yet another example of Oxlade-Chamberlain's strengths marrying far better with Liverpool's fighting football blueprint than it ever did with Arsenal's short-passing template.
And with RB Leipzig announcing just hours before kick off that they will not sanction Naby Keita's early release, his dynamism in the middle was doubly important.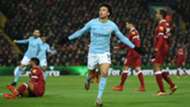 Liverpool were aggressive, giving the visitors no peace in the opening half, and deserved to hold the advantage. Emre Can was imperious, with Andy Robertson utterly excellent.
For all the talk of the individual who is no longer at Anfield, it was the strength of Liverpool's collective that finally proved City are fallible.
"It was simply the right statement," Klopp said. "It's not that I said in the meeting that I said, 'boys, it would help a lot if you could win tonight so nobody speaks about Phil Coutinho anymore' because we like talking about him, actually.
"He was probably still jumping in his new living room in Barcelona and happy about the win tonight. For us, it is important to show it is possible to play without him and we did that.
"It was a very important statement, absolutely, but that's all."
A near-perfect showing in the first half was blighted with a succession of errors five minutes before the break.
Joe Gomez misjudged Kyle Walker's crossfield pass, which Leroy Sane controlled before cutting in to beat the right-back and Joel Matip before drilling beyond Karius at the near post.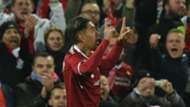 The keeper - now Liverpool's first-choice if he is "able to perform" - stuck his forehead on the turf in the knowledge that he should have done better.
It was a robust strike from the German winger, but had the positioning of Karius' hands been correct, he'd have thwarted the hit. 
Having conceded just before the interval, it would have been understandable if Liverpool were apprehensive after the break. Instead, in keeping with Klopp's "fear is not allowed" directive, they stormed into destroyer mode.
"You have no alternatives to beat City. Yes, you can win the lottery and they tackle each other! Then you can stand deep in your own box and in the end you hope nothing happens, but it is not really likely," the Reds boss explained.
"We are Liverpool, we should not try this way to be honest. Then you have no alternatives, you need to be brave, you need to play football and I am really happy about that. The pressing in the second half around the goals was different class. Just outstanding. Really outstanding, but playing football first half against a really good organised side.
"If you talk about City, it is always about good they are football playing wise, but they are also brilliantly organised, so against an organised team like that, playing football in the spaces we played with the situations we created – not plenty of chances, but half-chances and good moments - there is no alternative to play against them."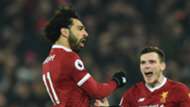 When Firmino chipped in after holding off John Stones and meeting Oxlade-Chamberlain's throughball on 59 minutes, it was still a tight, testing encounter.
But then it was bang, bang. City were on the canvas - bloodied - as Mane fired home a rocket into the top corner and Mohamed Salah punished a poor clearance from Ederson by lofting an effort over the out-of-position Brazilian.
Bernardo Silva and Ilkay Gundogan converted late on, but City had to accept their fifth successive away loss against Liverpool despite becoming the only team has to score more than once in the league at Anfield this season.
"You need a really good football team to do that to them and thank God I've got one!" Klopp concluded.