WC Qualification Africa
'No amount of money can get me motivated' – Ighalo thirsts for World Cup ticket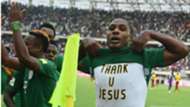 Nigeria international Odion Ighalo insists "playing in the World Cup" is his motivation, not lining his pocket with the riches on offer.
The Changchun Yatai forward is expected to lead the Super Eagles forward against Zambia, as Gernot Rohr's side chase at least a draw to secure a World Cup berth.
Eagles have been promised financial perks should they subdue Wedson Nyirenda's men who are in dire need of a victory.
And Ighalo claims he is ready and looking forward to playing a leading role in their pursuit of 2018 World Cup ticket, with any financial reward that comes his way merely a bonus.
"Most of us in the team have not gone to the World Cup, so there is no amount of money that can get me motivated," said Ighalo.
"Playing in the World Cup is my motivation because I have only been to the U20 World Cup.
"It will be a great honour for me to represent over 170 million Nigerians in Russia – [a tournament which has eluded] some great players.
"Against Zambia, I will do whatever it takes to win the game though a draw will be good for us."
He added: "We'll go into this game with maximum concentration and focus because a game like this is dicey because we are playing against a young and good side.
"With the calibre of players we have, we are capable of beating any team and on Saturday, we are going to win by God's grace.
"We have worked so hard and we still have two more trainings to go and on Friday, we will know who will be on parade."