U20 Women's World Cup
Nigeria U20 women can defeat Spain, says Thomas Dennerby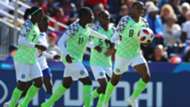 Nigeria senior women coach Thomas Dennerby has tipped the U20 side to secure victory in their quarterfinal clash with Spain in Concarneau on Thursday.
The Falconets secured a late equaliser in their last Group D encounter against China to finish as runners-up, with four points despite their opening defeat to Germany.
Despite their shortcomings, the Swedish tactician has hailed the organisation and defensive quality of Falconets, while he offers them some tips to defeat La Rojita.
"I think that they have a really good chance to advance because they really defend well and are organised," Dennerby told Goal.
"They are not attacking with the same strength and a little bit anxious when passing, making too many errors. But this is a really good team. I think Falconets will have a good chance.
"Look at their last game, China are a good team with strong possession and really good moves. But for some reasons they do not create so many scoring chances if you compare it to how much they have the ball.
"The defence is very good. Hard working, well organised and all players taking their responsibility. The attacking play is improving but needs some more creativity. The Spanish team is very good with really strong attacking play.
"But in their last game, they were very tired after 70 minutes. I will advise them not to let any goals in early in the game. As long as the game is going on, I believe we will create more and more chance and high possibility to score."
On Ajibade's struggle to find the net, the 59-year-old offered some excuses for the FC Robo stars' failure to realise her potentials and is urging more support be given to her.
"It is not easy at this level because it's very high competition. I think that she still has a crucial impact on the result against Haiti and China," he continued.
"But she is also very alone in the attack sometimes and easily crowded off the call anytime ball gets to her. The team is not linking up fast enough with her and she needs better support."