N'Golo Kanté
Kante comeback proves Chelsea simply aren't title contenders without him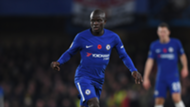 Cesc Fabregas was given the man of the match award, Chelsea's defence were praised for their clean sheet and Alvaro Morata stole the headlines with his goal, but it was N'Golo Kante who was the biggest influence as Manchester United were beaten at Stamford Bridge. 
Kante is more than Chelsea's engine, he is the heartbeat of the side and Antonio Conte failed all month to find a way of playing without their midfielder, who picked up a hamstring injury while on international duty. 
Chelsea 16/1 to win PL with dabblebet
Manchester United's chances would have been vastly improved on Sunday had Kante been out as he returned to the pitch to regain possession more times (11) than any other player on the night, while his passing accuracy was also the best of all Chelsea's starting line up (89.8%). 
Kante's influence extends beyond his own performance as he makes his team mates play better. Tiemoue Bakayoko and Cesc Fabregas were vastly improved with their box-to-box colleague back in the side. Chelsea's defence were more comfortable too, even despite the calibre of the opposition on show. Fabregas went on to create six goal scoring chances and dictate the play versus United, but he had been failing to do it in his absence in weeks gone by. 
Chelsea will still have the worry of not knowing how to play when Kante isn't available as the side have struggled to find an alternative system that is well balanced when he is not there.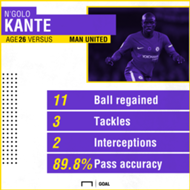 Both the 3-4-3 that Chelsea won the title with last season, and the 3-5-2 formations that the Blues use are hardly as effective when Kante isn't available. This is a huge issue as Chelsea have two specialist wing-backs and a group of centre backs that are mainly suited to playing in a three man defence. Conte spoke of the tactical implications of Kante's return as he celebrated a hard earned victory against Jose Mourinho's side. 
"For sure, to have the possibility to play with the three midfielders, it was very important," Conte said at Stamford Bridge. "That was very important for me to recover Kante and to play with Bakayoko and Fabregas, and to have an important substitute on the bench like Drinkwater.
"This season we are struggling a bit to find the best solution for this team. Last season we found a great balance with the system, 3-4-2-1. But, this season, we changed many players and we have to find a solution game by game. I think we showed a good balance and created many chances to score."
Drinkwater was reunited with his old partner Kante for the first time since he won the Premier League title with him in 2015-16 and Conte has all four of his midfielders available for the first time this season.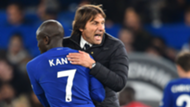 Kante is a regular in big games for Chelsea, while he is only ever rested against lesser opposition in the cups. Despite this, Chelsea still conceded just 0.9 goals per game with him in the team and go up to a further 1.2 goals per game when he is not there. Chelsea conceded fewer shots without Kante as he makes 10.1 shots per game drop down to 9.5 per game. 
Tottenham have Harry Kane, Manchester City have Kevin De Bruyne and Manchester United have Paul Pogba. The big sides in the Premier League generally have one player who it hurts badly to lose and for Chelsea it is Kante rather than Eden Hazard who is the biggest loss to the side.
The PFA Player of the Year finally earned recognition for his influence on the field last season with a host of individual awards. He's been the best player in England for the past two seasons, having been pivotal to Leicester City in their shock title win also.
He now rightly ranks as the third best central midfielder in the world according to the Balon d'Or shortlist and, for Chelsea, he is the man that they can't do without. Pep Guardiola called Tottenham 'the Harry Kane team' after winning at Stamford Bridge but he could also call Chelsea 'the N'Golo Kante team.'