Neymar
Neymar, Mbappe and Cavani slammed by Papin: They're not heroes, they're egos!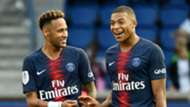 Paris Saint-Germain trio Neymar, Kylian Mbappe and Edinson Cavani have to put their personal ambitions aside if the club is to win the Champions League, 1991 Ballon d'Or winner Jean-Pierre Papin has said.
The three stars are the most expensively assembled frontline in the history of football, yet their impact on Tuesday's Champions League clash was negligible as the Parisians suffered a 3-2 defeat.
While PSG coach Thomas Tuchel lamented that the result was not a just one , Papin wants to see the forward players help their team-mates out more.
"With PSG, they're not heroes, they're egos," he told Le Parisien . "At some point, whatever your status is, you have to serve the team.
"There's a difference between stars we see abroad and those we have in France. In France, we've got the impression that they're impossible to manage. Why can Liverpool put their players into line and not here? When Neymar was playing with Barcelona, he defended from time to time…"
Papin, who enjoyed a playing career starring with Marseille and AC Milan among others, believes the forwards must change their mentality.
"Quality is permanent, it's in the DNA of these players," he continued. "There's no problem there.
"But they must come together, let everyone around him benefit from their qualities. They cannot care who the star of the team is. The club's project is to win the Champions League. If the players don't have that in their head, they'll never win it."
He is, however, optimistic that one good result could change everything.
Asked what the trio are missing, the 1992-93 Champions League winner with Marseille replied: "The type of match that serves as a switch. At PSG, they've never beaten a great team together. They are so strong…
"The only cement that's missing is, after having crushed everything in France, wanting to crush everything in Europe.
"When I was at Marseille, every time we went to play a big European team, we went to beat them. Yes, in terms of footballing and technical qualities, they are much better than us, but in mindset we were stronger."