Christian Atsu
Newcastle's Atsu downplays home advantage in Championship run-in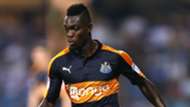 Newcastle United winger Christian Atsu says playing at home does not necessarily give his side an advantage as the Championship heads for the homestretch.
With three matches to go and six points off third-placed Reading, the Magpies need just a mark to confirm qualification to the Premier League.
Two of the games will be at home at the St. James' Park - one that could work to the advantage of Rafael Benitez's side.
"It's always great to play at home," Atsu told his club's official website.
"But in football, playing home or away is not necessarily an advantage, you just need to keep fighting and concentrate on your game plan. 
"I hope and believe that at the end of the season we will make our fans happy.
"We know the kind of position we are in now, and we know we cannot lose any games. We just have to keep working hard.
"We will come back strongly again."
Newcastle's recent form, though, has been anything but convincing, having drawn one and lost two of their last three games.
Atsu is on a season-long loan from topflight giants Chelsea, and has made 29 league appearances so far, scoring three times.