A-League
Newcastle Jets aren't an A-League Leicester City, says Nikolai Topor-Stanley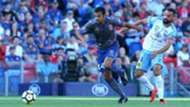 Despite going from wooden spooners last year to second place this A-League season, Nikolai Topor-Stanley is adamant Newcastle Jets' resurgence is no fluke.
Ahead of a semi-final clash against Melbourne City, the Jets are set for their first finals appearance in over eight years with a huge crowd expected at McDonald Jones Stadium on Friday night.
While they've been poor in recent seasons, Newcastle made the finals in four of the first five seasons of the A-League and won the championship in 2007/08. 
Arriving back at the club this season, Topor-Stanley isn't surprised to see his side back where it once was. 
"Newcastle have won a championship before so it's not like it's impossible," Topor-Stanley said.
"Leicester City competing against huge financial odds won the Premier League so it's not a fairytale for us to be there. 
"I'm proud of these boys where we've put ourselves in a position to be successful.
"We're not just happy to be here or making up the numbers either - we want to go one step further."
With well over 20,000 expected at Friday night's semi-final, Topor-Stanley is delighted to have rewarded Newcastle's loyal fans. 
"I'm excited for the town to come here and watch finals football when it's been a long time between drinks," he said.
"They've been great all year. It's a good feeling."