India
New FIFA world ranking methodology explained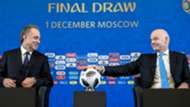 The next set of FIFA Team Rankings to be released by world football's governing body will see a marked shift from the manner they were previously calculated.
Since 2006, FIFA had adopted an average rating based approach in which a national team's total points were calculated taking into account their average points earned per match. A team's average over a four-year period was taken into account with the last 12 months carrying greater bearing.
Now, that approach has been replaced by the ELO method of rating which was initially introduced in chess before being adopted by many other sports. As opposed to average points, the ELO method adds or subtracts points to a national team's already existing total before a match.
Hence, in theory, FIFA rankings will now change with each passing match as compared to the previous method of updating the rankings once every month on a particular date.
The points which will be deducted or added will partially be calculated by factoring in the relative strength of the two opponents. The simple logic is that a team ranked higher on the table will be expected to beat the lower-ranked opponent.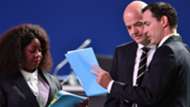 The new approach by FIFA has been in the pipeline since two years after it faced increasing complaints that teams are manipulating the ranking method to their advantage by scheduling less friendly games, or in the case of some teams, playing too many friendly matches against lower ranked opponents.
The new method places much larger emphasis on the importance of the match. Knock out stages of any nations leagues, continental competitions, Confederation Cup and the World Cup will carry greater weight age than the group stages of the same.  Also, friendly matches played outside the international calendar will earn much lesser points for teams than games played within the international calendar.
Previously, friendly matches carried a much higher price with teams being reluctant to schedule many of them in fear of dropping points. The new method is meant to encourage teams to schedule many more friendly matches than before and encourages them to risk playing higher ranked opponents.
Another major shift from the previous method is the doing away of the use of confederations strength in the calculation of points. Previously, the CONEMBOL and UEFA confederations carried much more strength compared to their other counterparts. With the removal of the criteria, teams from the likes of Asia and Africa will be able to climb up the table as quickly as their European and South American counterparts.
When the new rankings are released by FIFA, teams will be put in the same order as they were in the last round of rankings with the belief being that they will move to their natural order under the ELO system over time.
---
FIFA WORLD RANKING PROCEDURE
---
The previous formula for calculating the rankings can be seen here in detail.
The new ELO based formula is as follows: P = Pbefore + I * ( W – We )
Pbefore: Points before the match
I: Importance of match
W: result of the match
We: expected result of the match
Calculating 'W'
| Result | Points |
| --- | --- |
| Win | 1 |
| Draw | 0.5 |
| Defeat | 0 |
Calculating 'I'
| Match | Importance |
| --- | --- |
| Friendly game outside the International Match Calendar windows | 5 |
| Friendly game inside the International Match Calendar windows | 10 |
| Group phase matches of Nations League competitions | 15 |
| Play-off and final matches of Nations League competitions | 25 |
| Qualification matches for Confederations final competitions and for FIFA World Cup final competitions | 25 |
| Confederation final competition matches up until the Quarter-final stage | 35 |
| Confederation final competition matches from the Quarter-final stage onwards; all FIFA Confederations Cup matches | 40 |
| FIFA World Cup final competition matches up until QF stage | 50 |
| FIFA World Cup final competition matches from Quarter-final stage onwards | 60 |
Calculating 'We'
We = 1 / 10( -dr /600) + 1) with dr =difference in ratings of the two playing teams, i.e. dr = [ Pbefore of Team A – Pbefore of Team B]