Ligi kuu Bara
Mussa Mbaya: Ndanda against Yanga will be very tough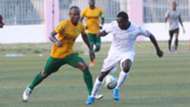 Ndanda FC go up against Young Africans aiming to improve their position in Ligi Kuu Bara table as they are only three points from the relegation zone.
However, the Mtwara side have already publicly admitted defeat in the Ligi Kuu Bara title race and their situation in league standing is much more worse, meaning league stay is now their priority.
And assistant coach of the Mtwara side Mbaya thinks Yanga will be tough opponents at Nangwanda Sijaona on Tuesday afternoon, but he insists that Yanga will leave the stadium without a single point.
Mbaya said that he understand that Yanga are chasing Simba in the title race, but they are focused to beating Yanga and a win is very important for his side.
"We are well prepared, and I am asking our supporters to be ready to celebrate the victory because we are going to win our three points, without any doubt we are goint to beat them," said Mbaya.
Ndanda will welcome Yanga in the matchday 19, but there is massive gap between the teams as Ndanda are 13th with 18 in the league while Yanga are second placed with 37 points.