Portugal v France
Nani has the ability to be the best in the world, claims Ferdinand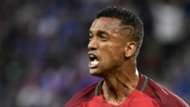 Rio Ferdinand believes Nani could be one of the best players in the world if his decision-making improved.
The pair won four Premier League titles and the Champions League together during their time at Manchester United, but the Portugal international struggled to cement a regular role in Sir Alex Ferguson's final season in charge before he eventually left on a permanent deal to Fenerbahce last year.
And Ferdinand insists the 29-year-old, who has now joined Valencia, possesses the ability to be as good as Cristiano Ronaldo and has been Portugal's talisman in attack at Euro 2016.
"He was quite a frustrating figure at times for Manchester United, the fans got frustrated with him," Ferdinand told the BBC.
"In terms of natural ability, he has it all, left and right feet, pace to die for, and he's brave, he wants the ball of the time.
"He's somebody who, if he got it all together, he'd be one of the best players on the planet.
"I think it's getting the information, digesting it and decision-making in the final moments, in the last moments on the pitch, decision-making is what separates the best players from the ones that are good.
"In this tournament, he's been one of the best, if not their best attacking player.
"He's played as a striker here, that's not his normal position, and that shows a level of intelligence in itself."