A-League
Kevin Muscat: Melbourne Victory will beat Sydney FC
Goal Australia Chief Editor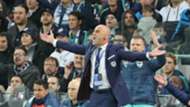 Melbourne Victory coach Kevin Muscat has fired the first shot in the lead-up to the 2017 A-League Grand Final, declaring his team will beat Sydney FC.
While Muscat declared he won't be too vocal in the media this week, which could be interpreted as a dig at Sydney coach Graham Arnold, Victory's boss was typically bullish about his team's chances in the grand final.
Victory qualified for the championship decider on Sunday with a 1-0 win over Brisbane Roar in Melbourne, less than 24 hours after the Sky Blues had cruised past Perth Glory 3-0 in Sydney.
COMMENT: Sydney shouldn't fear Victory
While Sydney defeated Victory in all three meetings in the regular season - an unprecedented Big Blue clean sweep - Muscat insisted that wouldn't be the case when the two sides meet at Allianz Stadium on Sunday.
"One thing's going to change - the most important thing - we're going to beat them," he said.
"That's the thing that's going to change.
"It's a grand final. You won't hear too much from me throughout the week because the time for the words will stop Sunday evening and the actions will determine the game.
"And off that performance there, the number of chances we created and not allowing Brisbane into the game at all tonight gives me great confidence, and gives the playing group some real, serious belief."
Victory were 'outstanding' - Berisha
Roar struggled to create genuine scoring opportunities throughout the semi-final, and although Victory's final pass or shot sometimes let them down, Muscat was thrilled with the Big V's display after a rusty lead in to the finals.
Besart Berisha's 70th-minute header saw the home side prevail at AAMI Park, but Victory could have easily won by a more significant margin if the Kosovo international and some of his team-mates had been more clinical in front of goal.
Berisha missed two great chances in the opening 10 minutes, while both Leigh Broxham and Marco Rojas failed to convert one-on-ones with Roar goalkeeper Jamie Young, but that didn't take Muscat down a peg after the game.
Melbourne Victory 1 Brisbane Roar 0
"The performance was outstanding from start to finish," the former Socceroos defender said.
"We understand and we spoke about it, unfortunately we had a little bit of time to do so, executing in finals football - the intensity's that little bit higher.
"I thought, when we didn't have the ball, our intensity to get it back was frightening, which didn't allow them to get a foothold in the game… and then we got it, I thought we were outstanding."
Sunday's win was only Victory's third in seven A-League fixtures.