Premier League
Musah ready to leave Hearts of Oak after disagreement on contract extension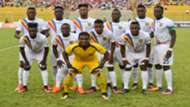 Hearts of Oak captain Innusah Musah is ready to leave the club following unresolved issues surrounding his renewal.
The 28-year-old, who has few months left on his contract, believes the amount offered him for an extension is an 'insult', comparing with deals offered to young players who joined last month.
"I've approached them several times to inform them of my soon-to- expire contract. I've been to the secretariat on five occasions but they seem not ready to meet my demands and it is evidence that they don't need my services anymore," Musah told Kumasi FM.
"With the amount they quoted during the negotiations, I think I can't sign a new deal since it's an insult in a way. I even believe they just want to sack me. As the captain of this club, I don't deserve such figures from them. 
"I've marketed myself enough and I deserve better than the offer they are giving me. Even fringe and youth team players are taking better than what they are offering me."
Musah, however, was tight-lipped on his future, amid reports linking him to rivals Asante Kotoko.
"I will hold talks with my agent to determine my next move. I'm ready to leave so the next decision will be communicated to my fans when everything is done and dusted," he said.