José Mourinho
Mourinho to blame if Man Utd fail – NBA star Larry Nance Jr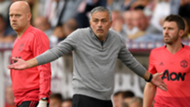 NBA star Larry Nance Jr believes that Jose Mourinho is wasting Manchester United's talent and it will be his fault if they do not have a successful season.
United were forced to come from behind to defeat Newcastle United last weekend, recording what was only their second home win of the 2018-19 Premier League campaign.
Cleveland Cavaliers power forward Nance has been a Chelsea supporter since he was young, watching Mourinho guide the Blues to three Premier League titles, but believes that the Portuguese manager has plenty of flaws and is responsible for not getting the best out of the current Red Devils side.
"As a typical Chelsea fan, Jose Mourinho is not my favourite to put it nicely," Nance told Goal. "He certainly has the talent at Manchester United, if he can't put it together and figure out how to utilise all the talent they have on that roster, then that falls on his shoulders."
Another football personality going through a tough spell is Chelsea forward Alvaro Morata, but Nance is confident that the Spaniard can turn things around at Stamford Bridge. New Blues boss Maurizio Sarri can reinvigorate the striker but Nance's experience in the NBA where he transferred from the LA Lakers to Cleveland in February has taught him it can be tricky to adapt to a new working environment.
Nance has some advice for Morata, telling him to lean on his team-mates for support and then the goals will start flowing again.
"Embrace your team-mates," Nance advised. "You're in a whole new place, a whole new city, a whole new environment. Only your team-mates know what you're going through and only your team-mates can help you through that. For me, it was key to having really supportive team-mates. I know Morata can have a good season. He's such a good talent. I'm just hoping under Sarri, he can flourish."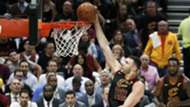 Nance flourished at Cleveland in his first season, helping the Cavs reach the NBA Finals. He admits that reaching the biggest stage of them all has made him hungry to do the same again in the upcoming campaign, but believes that competition will be tough as every team will be determined to reach the playoffs.
"All 30 teams should be aiming to make the playoffs and win the championships," Nance admitted. "Going into this year, that's what we would like to do, make it to the playoffs and compete for a title again.
"We got so close that we were close enough to almost taste it, but it got taken away from us. Any time that happens, you get another level of appreciation for it makes you want to win so much more."
Tickets for the NBA London Game 2019 will go on general sale Friday, Oct. 19 at 9 a.m. BST at www.axs.com/nbalondon. Fans can register their details at NBA.com/London to gain early access to a limited number of tickets via a presale to be held on Wednesday, Oct. 17 at 9 a.m. BST.