Manchester United
Mourinho sends message to 'lovers' after preserving perfect Champions League record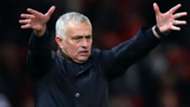 Jose Mourinho has hit back at his critics, with the Manchester United boss taking great joy in making his "lovers" aware of a faultless record in Champions League competition.
Questions continue to be asked of the Portuguese, but he has a useful habit of finding answers.
The 2018-19 campaign has been a testing one at Old Trafford, and it appeared at one stage as though a European clash with Young Boys would provide further frustration.
Marouane Fellaini was to snatch a dramatic winner, though, and United are safely through to the last 16.
Mourinho has never failed to reach that stage over the course of a career that has carried him from Porto to Manchester via Chelsea, Inter and Real Madrid.
He told BT Sport after delivering another knockout berth: "For some of my lovers, I just want to say, for the ones that like stats – 14 seasons in the Champions League, 14 times qualified through the group phase.
"Never one of my teams stay behind in the group phase.
"The season I didn't play Champions League, I won the Europa League. It's a good record."
Mourinho has previously secured Champions League triumphs at Porto and Inter, while United were guided to Europa League glory in 2016-17.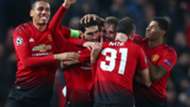 He is proud of his record to continue pushing teams into contention, with the current campaign seeing the Red Devils see off Valencia and Young Boys to join Juventus in progressing from Group H.
"That's good, very difficult group, to qualify with one match is obviously good," he said after seeing Fellaini make dominance count against Swiss opposition on Tuesday.
"The performance had lots of good things but lots of disappointing things. This is the kind of game if you score in the first minute you go for a different kind of performance.
"You could pay with not just a defeat. David's save, the only save in the game, was phenomenal, only the best goalkeeper in the world can save.
"More than one chance. We had what I call half chances a lot, when the winger has the ball and 20 metres to attack but has the fear of the penalty from the defender he has to go by him. We can't blame one player.
"The most important thing is a goal. Of course I'm happy with the intensity the boys put in, it's not difficult to cope with the pressure of a result that doesn't suit us."
With qualification secured in Europe, United can now turn their attention back to domestic matters and a Premier League quest that has them sat seventh in the table.
The Red Devils will be back in action on Saturday away at Southampton.