Manchester United
Mourinho outwits Klopp as Rashford & Lukaku expose Liverpool's soft centre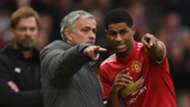 There was plenty of talk of Liverpool's attacking threat as they headed to Old Trafford on Saturday, but Marcus Rashford and Romelu Lukaku did all the damage as Manchester United took a tighter grip on second place in the Premier League with a 2-1 victory very much in the mould of Jose Mourinho.
After consecutive poor starts which materialised into come-from-behind victories, it was an electrifying opening period that led United past Jurgen Klopp's men. If Rashford was the hero, Lukaku was the beating heart of a wonderfully determined performance from the hosts.
Rashford opened the scoring after making the most of Lukaku's flick-on from a David de Gea goal kick. With plenty still to do, the England man took a touch, then knocked the ball inside Trent Alexander-Arnold and turned superbly to fire across Loris Karius into the far corner.
His second wasn't much different. Again, Lukaku beat Dejan Lovren in the air, and after Juan Mata's attempted pass wasn't cleared, Rashford reacted quickest once more and drilled home as Karius retreated back across his line.
Rashford's two goals came in his first league start since Boxing Day and represented his first brace in the Premier League since his debut in the competition, against Arsenal in February 2016. Meanwhile, it was the latest in a long line of improved displays by Lukaku as his all-round game comes on leaps and bounds.
The clinical nature of United's forward play was in stark contrast to Liverpool's efforts. Too often their attacks broke down before their star trio of Sadio Mane, Mohamed Salah and Roberto Firmino could even get involved.
When they did have a clear scoring chance shortly before Rashford's second goal, Virgil van Dijk was only able to get his shoulder to a stooping attempted header at a near-post corner having shrugged off Nemanja Matic.
After going two up, it was all about sitting in and offering Liverpool the task of breaking them down. It has forever been the default position of Mourinho sides, and if he sent his side out with Matic and Scott McTominay told to veer no further than 10 metres away from United's centre-halves, the bolt was only tightened further once the home side had a decent lead.
It was United's own undoing which led to Liverpool halving their advantage as the otherwise exemplary Eric Bailly somehow diverted a left-wing cross from Mane beyond David de Gea when there seemed to be little threat in the centre for the Merseysiders.
Rashford was soon replaced by the returning Marouane Fellaini as Mourinho bolstered his engine room and dropped his reinforced defensive unit even further.
Just as the early hook for Rashford drew some boos from an unusually raucous Old Trafford crowd, they would air further frustrations as Alexis Sanchez and Lukaku were regularly left to do their own bidding on any race for possession beyond the halfway line.
It was not the prettiest of games, nor was it the most important. Neither of these teams will win the league and nor are they in any danger of missing out on the Champions League.
But Mourinho knows better than anyone that claiming the bragging rights is all that matters, particularly when Manchester United meet Liverpool.
After the meeting at Anfield earlier in the season, Mourinho deflected some of the criticism of his side's approach by saying he had been waiting for Klopp to truly seize the initiative and counter-punch from there. Here his side took the advantage and simply refused to let it go.
It was as Mourinho as it comes, and nobody will have loved it more than the man himself.