Manchester United
Mourinho one of the greatest managers in the world? Time for Jose to shut up and prove it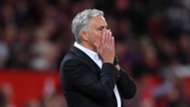 Jose Mourinho has spent a lot of the past week bigging up his record as a manager.
The 3-0 home defeat to Tottenham, coming hot on the heels of the 3-2 reverse at Brighton, has left many questioning the Manchester United boss's pedigree in modern football and his response was to go on the attack.
"Three Premierships," he said in his post-match press conference, holding three fingers aloft. "I won more Premierships alone than the other 19 managers together."
Then, on Friday, when asked to speak of the place Manchester United holds in his heart, he again turned the conversation back to him and his reputation.
"I am the manager of one of the greatest clubs in the world, but I am also one of the greatest managers in the world," he argued.
"I am the only manager in the world that won in Italy, Spain and England and not small titles or countries. And last season, I repeat, my second position last season is one of my greatest achievements in football."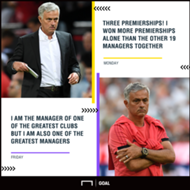 United fans spent much of their dominant period under Sir Alex Ferguson responding to the talk of rivals' former glories with great mirth, accusing them of living in the past. But right now they have a manager who appears to be doing exactly the same.
Mourinho is taking questions asked about the present and instead spinning them into an attack on his record. Nobody will ever take away the eight league titles he has won, nor his 17 other trophies of various shapes and sizes, but if he makes a mess of things at Old Trafford there is a possibility there will be few additions to his honours list going forward.
As United head to Burnley on Sunday, they do so needing to know that everybody is on the same page, everybody is fighting for the badge and everybody is equally committed to the group rather than worrying about themselves or their own reputations.
It is every bit as true of Paul Pogba as it is of Anthony Martial. It applies to Ed Woodward just as much as to David de Gea. And it is also vital that everybody within the corridors of the club's Carrington training ground is convinced that Mourinho has Manchester United's future success at the forefront of his mind rather than worrying about supposed attacks on his personal achievements.
No more 'I have won' this or 'My record shows' that.
United fans don't care what Mourinho won at Chelsea; they are only interested in what he can win for United. And, as such, it is time that the Portuguese stopped blowing his own trumpet and got on with the job in hand.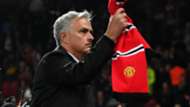 All he is doing with his concerted quest to take offence at everything is turning gradually more and more supporters against him. Sure, there were a group in the Stretford End still singing his name after full-time on Monday, but what of the thousands who left as soon as Lucas Moura had bagged Spurs' third?
After two defeats in their opening three league fixtures, United arrive at Turf Moor a full nine points off the pace set by Liverpool and Chelsea, and they can barely afford any more slip-ups already.
Mourinho can't keep talking up his past, and he can't keep claiming last season to have been some kind of triumph because, frankly, that has all gone now and United are in danger of making another top-two spot nigh-on impossible less than a month into the new season.
So often in the past, Manchester United has been a club which has closed ranks in times of struggle and found the strength as a united group to work its way out. In contrast, the current shambles of dig and counter-dig is unedifying to say the least.
The only way Mourinho will be able to convince the world that he remains one of the greatest managers in the game is by turning United's fortunes around and making them champions again in the very near future.
Only then can he truly have the last word. And until that day, there needs to be a lot less talk and far more action.