Euro 2016
England need to play the Mourinho way - Cahill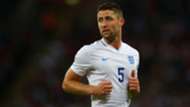 Gary Cahill feels England need to stop being "too nice" and is looking to take inspiration from Jose Mourinho's approach at Chelsea .

Roy Hodgson has urged his squad to show more killer instinct as they look to continue their perfect start to Euro 2016 qualification against Slovenia on Saturday.

And Cahill, who has been an ever-present under Mourinho as Chelsea have built up a four-point lead at the top of the Premier League, is confident his experiences at Stamford Bridge are helping.

"We've been too nice, that comes with experience," he told reporters. "We've got a very young team, but that's a big part of the game to know when to slow things down.

"In terms of game management, there are times in the game to kill it off or slow things down when things aren't going well. And we will learn that.

"Jose has been a master of that, it's a part of play at Chelsea and that's because there are so many experienced players in the squad.

"People know when to do that and not. That's something that's coming into the make up with England and that's why we are progressing.

"At first it was from the manager. The things that we addressed and it was certainly one of them.

"Even in the last game [against Estonia], there were tough moments. It was cagey, we wanted the first goal, it didn't come for a long time and just to be patient and keep going and get the results."