PSL
Motale: Jonevret can take Orlando Pirates to the next level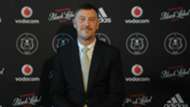 Legendary former Orlando Pirates defender Edward Motale says that he is happy and excited with the appointment of Kjell Jonevret as the club's new coach.
"I was happy when they appointed him and I am happy for him. At least now Pirates is going to have someone, who is going to take the lead and act like a leader," Motale told Goal.
"Someone, who is going to give direction and help the players to redeem their confidence and return to winning ways. So I was excited after they announced him as the coach," hae added.
The Swedish-born coach, who comes with no experience of coaching on the African continent has worked with a few South African players like Siyabonga Nomvethe and Lance Davids when they were plying their trade in Europe.
Jonevret has extensive coaching experience in Scandinavia having coached Norwegian clubs Molde and Vikings.
The 54-year-old won the league with Djurgårdens IF in Sweden 12 years ago.
Many expected a local coach to be appointed and wanted South Africa's all-time leading goal-scorer Benni McCarthy to take over as Motale expected the same.
"Locally I was hoping for Benni. But my biggest thing was that we get a coach soon but locally I was hoping for Benni," Motale lamented.
Nonetheless, Motale believes the Swede will take the club to the next level if his pedigree and reputation from abroad is anything to go by.
"Since they have opted for an overseas coach there's no problem. He is big. I honestly think he can take Pirates to the next level," Motale concluded.