Chelsea
Morata goal could save his and Chelsea's season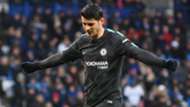 Alvaro Morata may only be 24 years of age but he understands the life of a striker better than most. "In my position, what matters is goals," he explained last year. "Your life can change in a moment, depending if the ball goes in."
On Sunday, it finally did, for the first time this year. After 13 games without a goal, Morata finally found the back of the net for Chelsea in a 2-1 victory at Leicester. It was a fine finish too, striking for its composure, given the context.
Put straight through on goal by the once again outstanding Willian, Morata didn't look anything like a player racked by self-doubt, taking an assured first touch before opening up his body and beating Kasper Schmeichel with a confident strike.
The relief was obvious in the celebration, though. This was a goal that meant a lot to Morata. And to his manager, Antonio Conte, who needs his most valuable player firing on all cylinders if Chelsea are to have any chance of forcing their way back into the Premier League's top four.
Even before his club-record £60 million move to Stamford Bridge, Morata had said that no coach had ever placed as much faith in him as the Italian, who pushed through his signing at Juventus only to then quit the club before the season began.
Conte had been integral to his arrival in west London too and the former Real Madrid forward made a stunning start to his debut season in the Premier League, netting six times in his first six games.
However, the goals dried up after his Boxing Day strike against Brighton and Conte had to drop his star striker. He had no other choice. Morata was playing that badly, even suffering the ignominy of being consigned to the bench as a desperate Conte resorted to trying Eden Hazard out as a false 9.
Spain also lost faith, with coach Julen Lopetegui omitting the forward from his squad for the upcoming friendlies against Germany and Argentina. 
Having started up front for La Roja at Euro 2016, there is now the very real chance that he won't even board the plane to Russia for this summer's World Cup.
However, the goal at Leicester could change everything. After selecting January arrival Olivier Giroud against Barcelona on Wednesday, Conte recalled Morata for the FA Cup, Chelsea's one remaining shot at silverware this season.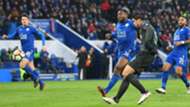 Things didn't start well, with Morata stupidly getting himself caught offside inside the opening five minutes. At that point, he cut a frustrated, forlorn figure. His now customary booking didn't feel that far away.
Morata, though, continued to take the fight to Leicester. At long last, he again looked like Chelsea's most likely source of a goal. Indeed, he had all four of the visitors' shots in the first half. And, crucially, one of them went in.
The change in his demeanour was remarkable. With his confidence back, he even attempted an outrageous back-heeled finish midway through the second half that struck the woodwork. 
It wouldn't have counted, as the linesman's flag had been raised for offside, but he hadn't known that at the time.
He almost forced a later winner in normal time, too, but he was unable to get enough purchase on Willian's through-ball before Schmeichel snuffed out the danger. 
As it was, Morata was forced to settle for just the one goal. But, as he knows only too well, one goal can change your life. Or even an entire season.
As Conte said afterwads, "I think his goal could be very important for the future." Both Morata's and Chelsea's.