Mexico
Mexico's Layun problem, Fabian's case for Russia and more: Five Things from El Tri's win over Iceland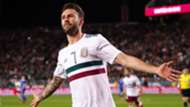 Mexico didn't dominate Iceland but came away with a 3-0 victory Friday in the first of two March friendly matches.
With a number of El Tri's top players getting rest or playing limited minutes, it's hardly a match that should cause concern for Mexico. In fact, it allowed us to get clarity on which players are headed to Russia and who perhaps is in manager Juan Carlos Osorio's plans for the future.
We also can take plenty away from the match tactically, with Osorio again wandering from his 4-3-3 to play a five-man back line and shift things around in the midfield.
Let's take a look at five things from El Tri's win against Iceland:
---
The Layun problem
---

You could see why Juan Carlos Osorio would like Miguel Layun closer to the goal than he normally plays when he lines up as a fullback or even a wing back. His double, the first goal a lovely finish after a pass from Hirving Lozano, the second a wondergoal that may have been a lucky cross or a moment of brilliance, was enough evidence that he can excel up the field.
It's not an accident that he improved in the second half, though, with Hirving Lozano feeding him passes from one side and Carlos Vela giving him options on the other. That's not to mention that if Layun doesn't play as a fullback or wing back or some type of player who is tasked with defending, that Osorio has few other options there. He didn't give Edson Alvarez minutes against Iceland, and while Jesus Gallardo is coming along on the left, he's still a converted winger at heart.
Osorio may be wise to avoid the seduction of using the multipurpose Layun somewhere aside from the back line. He can play in other places, but he's best suited where he's most comfortable, on the outside of the defense where he can get forward but also help the defensive unit.
---
Fabian can pack his bags
---

The last time Marco Fabian played for the national team before his back surgery, he scored a tremendous goal. The first time he played for the national team since returning from the injury he scored a tremendous goal.
He can use the time he has from not playing with Eintacht Frankfurt to pack his bags for Russia. There was an outside chance Osorio and the Mexico coaching staff weren't going to take Fabian to the World Cup. After all, he's getting playing time only sparingly at the club level and hasn't been tested since his injury return. 
Friday night he was tested, and it's not only his goals that signal he'll be on the flight. For one, Osorio gave him much more time than he gave to Chivas' Rodolfo Pizarro, another player who is best sitting behind the forwards and making plays. Osorio also said he saw it as his responsibility to get Fabian into a better rhythm (see thing four). Once Fabian knocked off the rust of not playing, he looked more like the player he was pre-injury. He's far from the first name on the list, but his spot looks safe.
---
Goalkeeper spot still no sweat
---

Once again Mexico went through a half in which its best player was the goalkeeper. Lately that's been Guillermo Ochoa, who turned in an excellent performance against Belgium in the first of two November friendly matches before Jesus Corona kept a clean sheet against Poland. 
Corona got the nod Friday and impressed with a trio of first-half stops that would've beaten a worse shot-stopper. Osorio wasn't concerned that Corona had to come up big, saying that's why the player is there.
"We think that the goalkeeper's responsibility is to make saves," Osorio said. "A lot of people think that when you play against a team like that, they will not even have a chance on goal. The fact of the matter is that they believe in a way of playing, and to be honest I admire that, that they keep competing and keep believing in the way they play. It's a very simple way of doing things. Start from the goalkeeper into the striker, it's a flick-on and we go for the rebounds. Eventually they will have a shot on goal and they did. Fortunately for us our goalkeeper had a great night."
That's something Mexico fans have rarely had to worry about historically, and it will be no different in 2018. Whether it's Ochoa, Corona or Alfredo Talavera, El Tri will have an excellent goalkeeper on the field.
---
National team's role for players not in form
---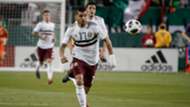 Osorio had some interesting things to say about the national team's role in helping along players who aren't seeing playing time with their clubs. How international managers value club form always is fascinating. A player can be the best player in an entire country by some margin but might not be one of the 18 best players at his club. Maybe he's just fallen out with his club manager. There's no doubt, however, that an international manager wants his players to be playing as often as possible and against top competition.
When they're not, Osorio said, it's on Mexico to give them a boost if it can.
"Today, Marco I saw that athletically he's ready to play, he's ready to compete. If he doesn't play in his club, I think it's our responsibility with a Mexican player with great talent, that we give him a chance in the Mexican national team," Osorio said of Marco Fabian, who is out of favor at Frankfurt. "I think, I respect every opinion. But today, I think, Diego for example played the potions where he always has played as center midfield or center back. Right now he's playing better as a center back, that's for sure. But it also gives him the chance for Jesus Molina to be in a place where we think he's one of the best and most complete.
"That's also my responsibility, not only to take care of the present of Mexican soccer but also the future. Today, Omar Govea came in and to me he looks like just like against Poland he has moral courage to come in and play and play well. I hope, as always, the players in their clubs play and for their performance in their club might get to their optimal level. Those who aren't playing in their clubs I think it's the national team's responsibility to give these players the chance to get their level back. We can't for get, for example, Marco Fabian was in the Olympic team and has given a lot to Mexican soccer."
It's the first time we've heard Osorio speak about this idea. For as much criticism as he gets outside the locker room, the impression from the players is always that they believe in the coach and his methods. Decisions like this, getting a player into the rotation who has had a difficult few months and can use recognition for his hard work, are why he has that loyalty.
---
Sweden will be different
---

I buy Osorio's idea that Iceland plays in a similar way to Mexico's group-stage opponent Sweden. Yet, I also think other journalists' position that simply finding a country somewhat close to the one you'll play doesn't mean they'll play in the same way has merit.
Osorio himself said as much, that Iceland has a unique style. The Europeans had a few shots on goal but often seemed to have no interest in applying any type of press at all. Hector Moreno, Nestor Araujo and Carlos Salcedo were free to pass among themselves for full minutes or more before they looked to play between Iceland's lines.
"Well, in scenarios like today like when you play against a team that plays in this way, because that's how Sweden will play and some teams have played and maybe some people think in the same way, we have to be more consistent in competing not for 10 50-50 balls or 20 or 30 because in one situation the whole path of the game can change," Osorio said. "We're going to keep respecting each opponent and preparing for them in the best way possible. Now, there are things to fix in the mid-term, corner kick, how we tried to get players out of their area. We'll try to improve on a lot of things."
That improvement is necessary because Sweden will be different. Especially at a World Cup, the Swedes will look to attack more than Iceland did Friday, they'll try to win more fouls in dangerous areas and they'll look to put more pressure on Mexico's defense.