PSG
Mbappe: Lack of training not a problem for Neymar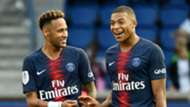 Kylian Mbappe has stated that a lack of training is not an issue for Paris Saint-Germain team-mate Neymar.
The Brazilian has managed just 57 minutes for the French champions in the past month after struggling wth adductor problems, but is expected to feature in their Champions League clash with Red Star Belgrade on Tuesday night.
Partner in crime Mbappe, however, is unperturbed by his colleague's lack of action.
Speaking before the game, he said: "We get along better and better we know each other more. I'm in a good position to talk about how important Neymar is, we're lucky to have him on our team.
"Tomorrow we will see all the quality he has to help us win, even if he has not trained much. But for a player like him it's not a problem."
The French giants find themselves in a relatively precarious position heading into the final round of group stages matches, and know that only a win will mathematically guarantee qualification for the knockout stages.
In all likelihood, a draw would also probably be enough to see them through, given their superior goal difference over third-placed Liverpool - provided Jurgen Klopp's side don't beat Napoli by five goals or more.
A loss could be problematic for PSG, however, should the Reds beat their Italian visitors on Tuesday evening.
Despite a faltering Champions League campaign, the French side have enjoyed a remarkable start to their domestic season, going 16 matches unbeaten and opening up a 13 point lead at the top of Ligue 1 before the halfway point.
They have, however, drawn their past two matches, and had to rely on an Edison Cavan penalty to avoid a shock defeat at the hands of Strasbourg.
Most recently, their cash with Montpellier was postponed as a result of the 'Yellow Vest' protests that have engulfed France over the past week. Violent clashes between protestors and police led to calls for the match, due to take place in the French capital, to be played on another date.
This means that despite their unbeaten record remaining intact, PSG have not won a match since their 2-1 win over Liverpool at the end of November.