South Africa
Matthew Booth critical of Safa delay over Bafana Bafana coach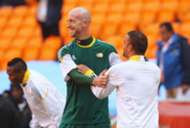 Legendary Bafana Bafana defender Matthew Booth believes that the South African Football Association (Safa)'s failure to appoint a new head coach is not reflecting well on them.
Safa has been searching for the new Bafana head coach since Shakes Mashaba was fired last December and the association is currently in talks with SuperSport United coach Stuart Baxter.
"Ultimately you know it is going to be very disconcerting," Booth told The Citizen.
"It doesn't give you much faith in the organisation when after however many days they haven't found someone to step in. Players want to be settled in their routines," he continued.
"When I was playing for Bafana people wanted to coach them and players wanted to play for the team," Booth added.
"They were not handing jerseys out willy-nilly. The status of the team has changed. On the positive side, I do see a generation of natural talent that is coming through and we have to take advantage of that.
Bafana are scheduled to face Nigeria in the 2019 Africa Cup of Nations (Afcon) qualifier in June 2017.
"The association has got to get its act together and sort it out with the Africa Cup of Nations and World Cup qualifiers coming up," he stressed.
"Imagine being the coach that eventually comes in? They have gone through number one, two, three and four, and you are maybe five or six.
"Many people criticise the fact that he had his chance (Baxter coached Bafana between 2004 and 2005), but I think both Stuart and Pitso Mosimane have matured as coaches.
"I would have a lot of faith in Stuart, Pitso, or Gavin Hunt, those would be my top three," Booth concluded.