PSL
Matlaba relishing 'healthy rivalry' with Van Heerden at Orlando Pirates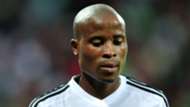 Orlando Pirates defender Thabo Matlaba is looking forward to competing with Marc Van Heerden for a place in the starting line-up.

Left-back Van Heerden and centre back James Okwuosa both joined Bucs from Chippa United during the recent January Transfer Window.

Van Heerden, who is a former South Africa international, is expected to compete with Matlaba and Patrick Phungwayo at left-back.

"Marc is a hardworking, quality fullback, who will undoubtedly bring vast experience to the team's defence," Matlaba told Vodacom Soccer.

"Of course, his presence will also give a bit more competition in the team's left-back position," he continued.

"That means there will be more competition between me, Patrick (Phungwayo) and Marc for a starting berth, which means there's a healthy competition in the team."

"Look, I'm a professional and believe in my ability as a player, so I'm always ready for competition, because competition is a name of the game," he added.

"Yes, I am a regular at the team's left-back position, but that doesn't mean I should treat any new player with whom I will compete for a position as a threat."

"So, I treat Marc along with James (Okwuosa) as the ones who will be adding value at our team's defence," he concluded.

Matlaba and his Pirates team-mates are currently preparing for their PSL clash with Platinum Stars at the Royal Bafokeng Stadium on Wednesday night.