U20 World Cup
Masinga: Amajita's main problem has been their lack of tactical awareness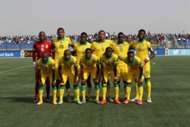 Legendary Bafana Bafana striker Phil Masinga is pleased with the overall performance of the South African U20 national team side despite their 2-1 defeat to Japan on Sunday. 
"I think they have to lift themselves up from an individual perspective. I think they just need to start believing in themselves individually and focus more on the game then they are capable of going through," Masinga told Goal.
Amajita squandered numerous goalscoring chances with Portugal-based striker Luther Singh the main culprit on the day.
Masinga, who is a member of the Safa technical committee in developing coaches, has challenged the Braga forward to redeem himself in the upcoming game against Italy.
"You are talking about a young boy, who has got a lot of potential. He eventually has to go through the learning phase, but you can't judge him on a couple of misses - it's all about improving," Masinga said.
"He must put himself in such positions not to miss goals. He must say he has 12 chances whereby he can miss 10 of them and score two goals," Masinga added.
As expected, Amajita's defence was under constant attack from the Japanese which capitulated in the second half.
Masinga says the problem stems from a lack of tactical awareness.
"Tactical awareness has been a problem. That's the challenge for them on what you are talking about, but maybe the coach has worked on that and it's unfortunate it didn't came out the way he wanted to," Masinga concluded.