Super League
Maniam "surprised" by Amri's signing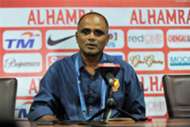 ---
BY        ZULHILMI ZAINAL       Follow on Twitter
---
When met by the press on Wednesday, the same day that Selangor announced the signing of former player Amri Yahyah from Melaka United, the Red Giants boss Maniam Pachaiappan expressed his surprise at the decision.
"I am also surprised by his (Amri's) sudden arrival here.
"But he's an experienced player, he has leadership qualities, and this will help the team," said Maniam after Selangor's friendly against MISC-MIFA on Wednesday.
And it's the evergreen forward's experience that Maniam wants Amri to contribute to the team.
"He used to play for Selangor, he has good qualities, and it's his leadership and experience that he has to bring here.
"He has to show a good example to the players, along with Andik Vermansyah's return," he explained.
In the friendly which ended in a 1-1 draw, with Selangor's goal scored by Liberian forward Forkey Doe courtesy of Amri's assist, the Malaysia international played in front alongside Doe and Andik.
When asked by Goal whether this is his likely forward line-up following Andik's and Amri's return, Maniam answered in the affirmative, although he added that the pair needs to be made to understand their roles in the formation first.
"We play in a 3-4-3 system, and Amri is right for the position. Andik too will be there.
"But they still lack that understanding on the combinations, so we have to work on their combination play and make them understand our style play," he explained.
And according to him, although Amri is already 36, the concern is not on the fitness. Rather for Maniam, it is the veteran player's understanding of his tactical instructions.
"Fitness-wise, Amri is already there. What's more pressing is (his understanding of) our style of play and how he's going to adapt to it, as well as Andik's," Maniam said.