Manchester United
The lengths Mourinho goes to in search of perfection disclosed by Karanka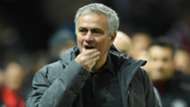 Manchester United manager Jose Mourinho is a perfectionist, says Aitor Karanka, with all bases covered by a coach fuelled by a desire to be the best.
The Portuguese is renowned for throwing himself into any position he fills, with no stone left unturned in the pursuit of success and silverware.
He is currently undertaking that job at United, with the Red Devils having charged him with the task of bringing the good times back to Old Trafford.
Karanka, who formed part of Mourinho's coaching team in a previous role at Real Madrid, expects a proven winner to have everything under control in Manchester, with his obsessive nature witnessed firsthand in the Spanish capital.
"Jose has everything imaginable under control," the Spaniard told The Times.
"From the grass on the training pitch to the shoes the players wore.
"We were trying the suit of the team to travel in, and the shoes. Real Madrid had a brand of shoe but it wasn't a top brand. 
"Jose looked at the person at the club (on the commercial side) and said, 'Oh, the players use this brand of shoe in their normal life? 'No, I don't think so'. 'Ah, so they have to use this brand before the game when they're used to other (better) brands?'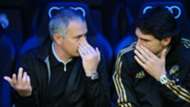 "Jose was thinking about the shoe, so the players would be comfortable before the game. He thinks of everything. Even for me, an assistant, I had to put every single cone in the right position and every single bib out at the right time.
"He's always demanding of the goalkeeper coach, the fitness coach, myself, the players. He wants everybody around the team to be fully concentrated in the work."
While Karanka concedes that Mourinho lives for his work, he also claims that the 54-year-old is often unfairly portrayed as a moody character who rarely lets his guard drop.
"Ninety-five per cent of the day Jose is fun," added the former Middlesbrough boss.
"[But] the other five per cent is just with the media. When my wife met Jose, she was surprised. He was not the person she was used to seeing on the TV.
"He's funny, a very good father, very good friend. He's very loyal. In my case, he transmitted me all his confidence and I gave him all my best."
Mourinho will be hoping to see United put a smile on his face when
they play host to Southampton on Saturday evening
.