Manchester United
Handing Man City the title wouldn't be the 'end of the world', insists Mourinho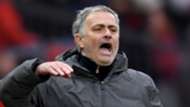 Jose Mourinho believes that Manchester City winning the title against United would be no big deal for his club, as it is something he already achieved while managing Chelsea. 
Sixteen points clear of their Manchester rivals with just seven games remaining, City know a win at the Etihad Stadium would mathematically guarantee them the Premier League crown. 
But when asked if he would be going all-out to spoil the hosts' celebrations, Mourinho seemed unconcerned. In words that evoked his curious defence of the Champions League defeat to Sevilla — when Mourinho listed previous triumphs over his current employers — he looked to play down the significance of the weekend's big clash.
"I won the title at Chelsea against United," Mourinho explained to reporters on Friday.
"We beat United 3-0 and we won the title, at Stamford Bridge, in 2005-06. It was not the end of the world, Manchester United didn't finish. It was just football.
"The only thing I can say is that we want to win. We don't want to offer them the game. We want to go there, we want to compete and win the match if possible."
Regardless of the result on Saturday, United look set to take at best a second-place finish from this year's Premier League campaign. 
Mourinho, however, pointed to the positives from a season that has been a mixed experience for the Red Devils. 
"We have more points than last season [after 31 games, 68 to 61], more goals scored [60 to 46], less goals conceded [23 to 24]," he said.
"But City made it impossible for the others. So congratulations for the great Premier League season they are doing.
"And the moment they become champions, which will be sooner rather than later, I will react the same way other people reacted when I won three titles in this country."