Videos
Man City's Clichy: I try to model my DJing on Will Smith's legendary musical pal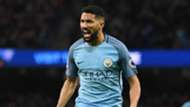 Manchester City defender Gael Clichy has revealed the musician who he takes the most inspiration from as he continues to develop his own love for DJing.
Who Real Madrid should sell this summer
The Frenchman says DJ Jazzy Jeff, who worked with pal Will Smith on hit '90s TV show 'The Fresh Prince of Bel-Air', is an "amazing" artist and somebody who he tries to emulate.
Clichy is an avid fan of DJing and says he gets plenty of practice in during away games due to City regularly fighting on multiple fronts every season.
Footage courtesy of Kicca.