Malaysia U16
Malaysia U-16's Amirul apologises for social media blunder, ahead of AFF tourney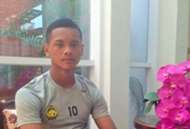 ---
BY        ZULHILMI ZAINAL       Follow on Twitter
---
Following Indonesian fans' outrage over his Instagram post, Malaysia U-16 forward Amirul Ashrafiq Hanifah has apologised for his gaffe.
Just before departing for Indonesia with the Young Tigers for the 2018 AFF U-16 Youth Championship, the youth player uploaded a picture of the team at the airport on his Instagram account, and included the Indonesian flag in the caption. However, he mistakenly picked the white and red Polish flag, which is the reverse of the red and white Indonesian flag.
Predictably, his mistake was picked up by the host nation fans and media who erupted in fury, accusing him of insulting the country. In the 2017 Southeast Asian Games that was hosted by Malaysia, an official programme book mistakenly displayed the Polish flag in place of Indonesia's, and Indonesians responded in a similar manner, necessitating a public apology from the organiser and Malaysia's youth and sports minister.
Malaysia U-16's head coach Raja Azlan Shah Raja So'ib chose to head off the controversy early, when interviewed by the Indonesian edition of Goal on Saturday.
Insiden Bendera Terbalik

Terkait postingan Instagram salah satu pemain timnas U-16 Malaysia yang mengunggah bendera terbalik Indonesia, pelatih Malaysia Raja Azlan Shah meminta maaf dan akan menjatuhkan sanksi.#indonesia #affu16 #malaysia pic.twitter.com/QHcZIJ3uuD

— Goal Indonesia (@GOAL_ID) July 28, 2018
The player too has apologised for the gaffe on his Instagram account:
"I would like to apologise to all Indonesians for my error the other day. I had no intention of provoking anyone, as it was an honest mistake. I hope the issue will not be blown out of proportion, and I sincerely apologise again."
Regardless of the youngster's apology, it remains to be seen how the home fans will respond to the controversy. In the AFF U-19 Youth Championship tournament that was also hosted by Indonesia earlier this month, Malaysia U-19 players and coaching staff were pelted by missiles by the Indonesian fans following their semi-final win over the host country, an incident that happened without any provocation from the Young Tigers personnel.
Malaysia U-16 have not been drawn in the same group as Indonesia, but there is a possibility that the two teams will meet in the semis or the final match.
Also follow Goal Malaysia's new Instagram account!