FA Cup
Rajagopal plays down impact of Perak's away goal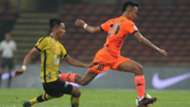 With just additional time left to go, the match was going exactly the way PKNS and K. Rajagopal wanted. The Red Ants were put under tremendous pressure but had a two-goal while keeping a clean sheet. 
However a late blunder from K. Reuben gave Perak a lifeline in the fourth minute of added time and suddenly, it looked like the visitors were far more happier with the result, even though the Bos Gaurus ended up losing the match 2-1.
After the match, Rajagoal choose to look at the positive and brushed away any suggestions that conceding the away goal to Perak had changed the complexion of the FA Cup quarterfinal tie. 
"Not also [whether the late Perak goal makes the second leg more difficult]. If we look at whatever game in football, the situation always changes. No matter whether we win or lose, we still needed to go there with confidence." 
"The win didn't came easy. The players worked hard for it. We expected Perak to be aggressive to get the away win. Even though we didn't start as how we wanted, we still managed to find the opening goal.
"Perak played with more urgency in the second half with long balls to Gilmar and Wander Luis. Our players maybe lost a bit our focus because we kept losing the ball," said Rajagopal.
Faris Ramli had opened the scoring in the first half, benefiting from uncertainty inside Perak's penalty box but the second goal from Safee Sali was a stake that worked for Rajagopal. With Perak increasing the pressure in the second half, Rajagopal threw on more attackers instead of defenders to defend their lead.
On came Safee Sali and Khyril Muhymeen for Jonathan Acosta and P. Gunalan respectively. Expecting space to exploit as Perak kept pushing men further forward in desperate search of the away goal, it was a ploy that worked.
"What I can praise the players is that we tried to do something when we had the chance to counter attack. That's how we got the second goal. I only made one change in defence and two fresh legs up front with Safee and Khyril. Perak wanted the goal and they were pushing forward," added Rajagopal.