NPFL
ABS' Makinwa scared of losing Wasiu Alalade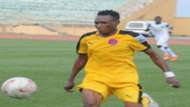 ABS coach Henry Makinwa has revealed that he is worried about losing striker Wasiu Alalade following his splendid performance in the Nigeria Professional Football League.
Alalade scored eight goals in his last 11 games and with the Saraki Boys relegated from the Nigerian topflight, the gaffer is unsure of the future of his prolific forward.
"He is very disciplined and humble and doesn't joke with his job," Makinwa told media.
"Wasiu works very hard in training every day and that paid off for him and us when we needed him.
"His study didn't allow us to get the best of him during the cause of the season because of his exams in school. His combining education and football together shows how disciplined the young lad is.
"Wasiu is not the only talented players in ABS, there are plenty others too like Adeoti, Dada and Chindo, etc. Not many clubs in the country will follow our policy of developing these guys.
"The average age of many of players is 20 and I'm sure not many clubs in the country would want to take the risk of prosecuting the league with players like that.
"We didn't regret we played these players because our work will pay off when we see some of these guys in the national team in the future," he concluded.