Romelu Lukaku
Lukaku sends warning to Henry: I'm coming for your records!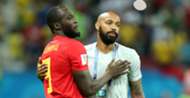 Manchester United striker Romelu Lukaku has told Thierry Henry that he aims to break the Frenchman's record of 175 Premier League goals.
Belgium international Lukaku knows Henry well from his time working with the Arsenal legend when he was coaching alongside Roberto Martinez for the World Cup semi-finalists, though he has since departed to take up a head coach post role at Monaco.
Lukaku, though, is desperate to beat his former mentor's mark, the most scored by any non-English player in the league, having previously wound ex-Chelsea forward Didier Drogba up about reaching 100 Premier League goals in 30 fewer matches than the Blues legend.
"When that happened, Drogba sent me four cups [for his four Premier League titles] on Snapchat!" Lukaku told Man Utd's official website. "We speak every day and it's really nice because he's been part of the process. 
"Now I'm talking to Thierry Henry saying: 'I'm coming for you' on 175! I'm laughing saying it to him but, deep down, inside he knows I'm dead serious!"
Another person who has had a strong influence on the 25-year-old's career is his mother.
"We talk before every game and we talk every day," he said. "When she's not at my house and she's in Belgium we FaceTime four or five times a day, easy. And sometimes we just talk about nothing! Or sometimes we'll watch TV at the same time – she'll be watching Belgium TV and I have it at my house so we'll watch it at the same time and then we'll talk about what we're watching! She inspires me all the time."
Meanwhile, he has admitted that there is one type of goal that he still has a yearning desire to score.
"The perfect goal? I really want to score from 30 yards out one day," he confessed. "I've had a few goals from outside the box, but I'd really like a screamer, that would be cool. I practice all the time, but I don't always get into that position as I score a lot from crosses so I want to be in there for those as well."
Lukaku will try to add to his 105 Premier League goals on Saturday, when United face Chelsea at Stamford Bridge.