Liverpool
Liverpool's crisis of confidence threatens to crank up pressure on Klopp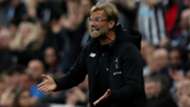 Liverpool's former manager walked out of the tunnel at St James' Park to a display that spanned a large portion of the Gallowgate End, consisting of a message written in Spanish sandwiched between a black-and-white portrait of him.
"We will follow you everywhere, we'll always have your back. In spite of the lies they tell us, we'll never doubt you. We are with you," the signage translated to in English, as Rafael Benitez was serenaded with chants of his name by both sets of supporters at Newcastle.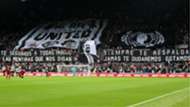 Liverpool's current manager, meanwhile, was greeted by more critical questions following the final whistle of the 1-1 draw on Sunday evening, which saw his side continue their arc of not converting clear-cut chances while allowing the opposition to easily maximise a rare opportunity.
Reds 8/5 to win North-West Derby
And so the start of a new month had Jurgen Klopp reflecting on the very issues of the previous one. There were two periods of play in the opening half that best encapsulated the club's situation since the last international break — during which they've managed a solitary victory in seven fixtures, scoring eight and conceding 14.
First, the Reds were thrice denied in quick, disbelieving circumstances: Georginio Wijnaldum hooked a volley onto the near post, Dejan Lovren seized upon the ricocheting ball with his shot cleared off the line, and Sadio Mane dragged the rebound wide.
When a goal seemed the most probable outcome in that frenzied spell, Liverpool still couldn't affect the scoreboard. The 'not this again' feeling had already set in before being enhanced at the opposite end of the pitch. A sizeable gap between Joel Matip and Dejan Lovren had been sussed out by Jonjo Shelvey and was then exploited as the visitors lost possession.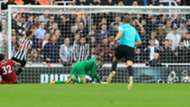 The ex-Liverpool midfielder, under no pressure, dissected the centre-backs with a ball through the middle that swiftly left them in Joselu's shadow. Matip recovered to put in a block, but the ball hit the forward and went in.
In between both these snapshots of Liverpool's recurring problems, Philippe Coutinho had put them ahead with his trademark shimmy in from the left to cut in on his right, destroying goalkeeper Robert Elliot with a rising curler from 25 yards out. It was a third in three games for the Brazilian, who has caused no drama while reintegrating following his failed push to Barcelona this summer.
The concern since deadline day hasn't been around the playmaker, but the inability of Klopp's charges to reinstate their swagger and slaying of opponents despite holding on to their stardust and Coutinho continuing to supply decisive moments.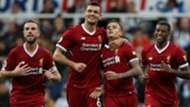 Each department has assumed the role of scapegoat in the post-mortems, and while accusations of Liverpool not doing enough in the transfer market are valid — especially in the heart of defence — the truth is the team haven't been awful, as most over-reactions would suggest.
Frustrating, stupid at times, wasteful — but not awful, which makes it all the more grating that they aren't winning.
"I played a lot of times with different teams in my life really badly and we've got a point," Klopp reflected.
"Afterwards, it feels like you've won a point, but you know you have a real problem because you have to play better next game — otherwise, you will not get a point. We do it the other way around. 
"We are the better team again, we create more chances again, we are in very promising situations and then we don't score. That's of course a problem but it will not stay like this.
"I know, I'm long enough around football to know that there will be one day when the knot opens and maybe then we'll score times than once, that's pretty likely."
Why, though, has the fastening been so tight and so troublesome for Liverpool to detangle?
The Merseysiders seem to be suffering from a crisis of confidence, which the German — in a pre-season interview with Goal — explained was one of his annoyances during their difficulties in January.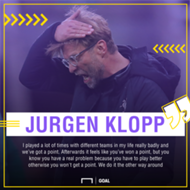 He referenced how, despite beating Manchester City on New Year's Eve to end 2016 as Chelsea's closest challengers, the players felt like they had blown their title shot two days later in a draw at Sunderland.
"It was only one game! Everybody gave points away, even Chelsea — okay, not too often because they were champions at the end, but it happened," Klopp said. "It's all about how you handle these situations and it's something we are really working on to be stronger in."
Clearly, this remains front and centre of the agenda, given the 50-year-old has since continued to point out problems with confidence in both boxes as well as his squad paying too much attention to what is being said externally rather than within the walls at Melwood.
"What we have at the moment is that everybody wants to help where the first ball is," Klopp said about the lack of conviction in defensive scenarios on September 21.
"You see this very often — we come too close together where the first ball is, which means when the second ball comes, we don't have a good formation. We really work on this, but I would say around these situations, there's not the same confidence."
On Sunday, he admitted it is "not easy" to possess credence in attack when "you try and try and try and it doesn't work."
The answer to the latter was supposedly meant to be starting Daniel Sturridge in place of Roberto Firmino on account of the England international being a more natural finisher and historically enjoying his outings on Tyneside.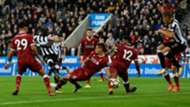 But, unfortunately, he too was guilty of hair-pulling profligacy in the box, though he could credit a lack of rhythm.
"Players make the right decisions when they have confidence, when they don't have it, then they feel 'next pass needs to be the goal' or 'now we are under pressure and need to force it,'" Klopp noted in July.
"No! You stick to what you're doing, try, try and try again. Each missed chance is not a failure, it is information — use it and go again."
Liverpool have digested a lot of data over the last month given their multitude of almost-doesn't-count moments, but the Reds boss is right — they cannot promote insecurity by shredding the script and morphing into something alien.
"We create, we play good, but obviously we don't score in these moments. But there are different ways to get one win in seven," Klopp said of Liverpool's form from the last international break as another one starts.
"You can play really bad and lose a lot of games or you play in a few games really, really good — I'd say in most of the games actually we were the better side — but a few chances are enough for the opponent to score, and we need a lot more and have at the end the same number of goals. That happens too often of course in the last few weeks, but the only alternative for us is to carry on.
Seven matches down, the #PL table as it stands... pic.twitter.com/YvzY9xq7PR

— Premier League (@premierleague) October 1, 2017
"We have to do it like this. We can't say we won't try it from now on and get more passive, come here and we are the counter-attack team and hope that something happens — I don't think that is the right way for us. 
"We are having obviously our hard moment, and other teams will have theirs in the season. We need to work on our things and I really think that we are not far away from [being] a real challenger.
"If we do what we are good in, then we'll score more goals and we'll win games."
That needs to start pronto, but next up is the hosting of a Manchester United side that have not yet lost in the league, while pulverising 21 goals past opponents and only conceding two.
Klopp said he wants his team to "try to fly" and while it would be an exceptionally difficult test, there can't be a better runway than against Jose Mourinho's men at Anfield.