Manchester United
Lingard on Messi comparisons: I'm my own player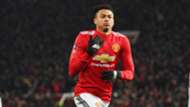 Jesse Lingard has played down tongue-in-cheek comparisons to Barcelona superstar Lionel Messi, insisting he is merely focusing on helping Manchester United.
The England international has been in excellent form thus far this season, scoring seven goals and providing four assists in 19 Premier League outings.
Lingard's form has seen him compared to Barca's brilliant attacker by several United fans, but the 25-year-old insists that he is committed to being his own player.
"Messi's regarded as one of the best players in the world, so it's always good for your confidence but I'm my own player and as long as I can help my team, that's all that matters," he told the Premier League website.
.@JesseLingard Messi Lingard?

Here's what Jesse thinks of his new nickname... pic.twitter.com/538AI1kppI

— Manchester United (@ManUtd) January 17, 2018
Lingard has long been touted as one of United's best home-grown prospects, and he believes that his time has finally come.
"I've realised it's my time now, and I have to really step up," he added.
"It's been a long time coming. I said at the start of the season I have my own objective, my own target in mind with goals and stuff and I'm on the right path at the moment and if I can keep going I'll hopefully hit that."