Arsenal
Leno over Arsenal nerves as he sounds No.1 warning to Cech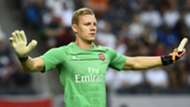 Bernd Leno has admitted to being "very nervous" as he completed a €22 million (£19m/$25m) move to Arsenal, but he is now looking to topple Petr Cech from the position of first-choice at Emirates Stadium.
The German goalkeeper did struggle to make an immediate impact upon arriving in north London, with his value being questioned shortly after linking up with the Gunners.
Unai Emery positioned him behind 36-year-old Cech in the pecking order, with Leno forced to be patient as he waited for Premier League opportunities.
An unfortunate injury to his rival has opened the door for the 26-year-old and, as he now feels more settled in new surroundings, he is determined to make the most of exciting opportunity in England.
Leno told Arsenal's official website on his switch and progress so far: "I loved my time at Leverkusen and I was living my dream. I had played for Germany too and to be honest I didn't think things could get much better, but then I found out that Arsenal were interested in me.
"I was very excited and very nervous too because Arsenal is such a big club with a big history and great fans.
"Playing in the Premier League was a very exciting prospect for me too, and fortunately I already knew a few of the players.
"I've known [Shkodran] Mustafi for about 10 or 11 years because we grew up together in the youth national teams, the under-17s through to the under-21s. I had played with Mesut [Ozil] for Die Mannschaft too, and I also knew Granit [Xhaka], [Pierre-Emerick] Aubameyang and [Henrikh] Mkhitaryan from the Bundesliga, so it's funny to see us all together at Arsenal now. 
"Before I made my decision I talked to Musti and Mesut about it a lot. They both said that Arsenal is a big club and that I would love it here. I talked with my brother, my parents and my girlfriend, and they were all very excited for me. It was clear that I had to sign for Arsenal.
"Things have started well here and everyone's been very welcoming.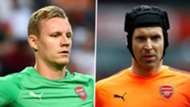 "I think we had a great pre-season and I've really enjoyed working with Petr. He's a big personality with a lot of experience and he's also a very good guy.
"I've got a lot of experience too, of course, but he has much more so I can learn from him. The most important thing is that we have fun together and we push each other. We are respectful to each other and I think we still have fun.
"It's very good here, the way we work. The coaches do a good job and the staff are very nice. The team was very welcoming from the beginning, so I like it here.
"I want to play, I want to be the No 1 for the coach and I just want to improve for myself.
"At the end of the season, we want to get back into the Champions League of course, and then hopefully win a trophy in the process."
Arsenal are currently on a nine-game winning run, with that sequence of results having lifted them to within two points of the Premier League summit while also progressing positively in Europa League and Carabao Cup competition.