Opinion
Leicester move for Iheanacho, but Everton need him to replace Lukaku
---
COMMENT    By Solace Chukwu    

Follow on Twitter
---
So, it appears Kelechi Iheanacho's Etihad nightmare is finally at an end. The 20-year-old is, according to Manchester City boss Pep Guardiola, set to complete a move within the next week, with the most likely destination being Leicester City.
"We believe he deserves to play at that age," said Guardiola. "That's why we decided what's best."
That indeed he does, and City's insistence on a buy-back clause is an indication of (a measure of) continued faith in the player.
However, with the club's sixth all-time top scorer Sergio Aguero not even a certain starter, and the Citizens still interested in Alexis Sanchez, Iheanacho's chances looked set to go from slim to non-existent very quickly.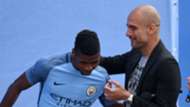 Leicester will get a player lethal in the box, an outstanding one-touch finisher whose goal-ratio is ludicrously good for one who has played so sparsely. What is slightly surprising though is that there is another team in the Premier League who (a) need a striker, (b) have financial muscle, and (c) are arguably more suited to Iheanacho's style of play; yet they are not breaking the door down for him. Everton.
The Toffees sent a striker on his way to Manchester only a week ago, top scorer Romelu Lukaku, in a bumper deal worth (depending on which party you ask) between 75 and 90 million pounds.
There is a now a huge goalscoring vacuum at Goodison Park: the Belgian was directly involved in 31 (25 goals and six assists) goals – 50% of Everton's 62-goal total – last season.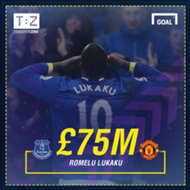 There have been improbable resurrections in football before, but it is hard to see how Wayne Rooney, all of 31 and on the wane for the last three years, will replace that.
Sandro Ramirez has also come in from Malaga, but his style suggests he is nowhere as proficient playing alone upfront as in a strike duo. The idea might very well be a change of system, but that may well hamper the development of the promising Tom Davies in midfield.
Even with a 4-4-2/3-5-2, it is asking a lot to expect Rooney to pitch in with his fair share at this stage of his career. His return is rooted in emotion rather than pragmatism.
Which brings us right back to Iheanacho.
That Everton have not been on the phone to City is surprising; as a matter of fact, for less than a third of what they fleeced Manchester United for Lukaku, they could have an upgrade.
Going purely by numbers, this may sound ludicrous. However, modern football places ever-increasing demands on centre-forwards; it is not enough that they put the ball in the net, but that they serve as multipliers for the rest of the team, engender continuity in the attacking play, and display intelligence in movement without the ball.
United's new man has his (well documented) limitations, including but not restricted to his first touch and hold-up play.
His raw physicality and pace makes it inevitable that he will score goals, but he exacts a high tariff from the rest of the team.
Iheanacho, on the other hand, is a thoroughly collective footballer: an outstanding finisher who is just as capable playing the final pass.
In the absence of Sergio Aguero through suspension in September last season, the Nigeria international caught the eye with a goal and an assist in the Manchester Derby at Old Trafford, but the full range of his abilities was even more apparent in the home win over Bournemouth.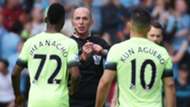 City were devastating on the counter attack, with Iheanacho at the heart of every move. He set off and finished Raheem Sterling's pass for the game's second, returned the favour for the third, then made sort of subtle decoy run that Lukaku often seems incapable of, carving the Cherries' defence open for Gundogan to run through and score the fourth.
When you consider that Everton's best performances last season, including a 4-0 spanking of City, no less, were achieved by playing on the break (Guardiola's side had 71% possession on the day), it is clear just how smoothly Iheanacho would fit in.
His lack of games may count against him, but it really shouldn't. Guardiola admitted himself that he "didn't give a lot of chances", and it is no shame to be behind Aguero and Brazil's starting centre-forward at a club like City.
Everton may well pull a rabbit out of a hat before the end of the window, but strikers are at a premium in today's market.
In the end, they might rue their inability to spot the best bargain going this summer: a proven Premier League goalscorer, with significant upside and resale value, for about 20 million pounds.