West Bromwich Albion v Arsenal
'Lehmann would've punched me in the head' - Henry tears into Arsenal's defending in limp West Brom loss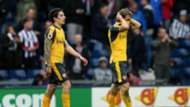 Thierry Henry has slammed Arsenal's defending in a 3-1 defeat to West Brom and questioned the "desire, commitment and attitude" of a badly underperforming side.
The Gunners legend saw his former club suffer another costly setback at The Hawthorns on Saturday.
Wenger has decided upon future
Arsene Wenger has faced Tony Pulis sides often enough to know what to expect, but his team once again failed to deal with the threat posed from set-pieces.
Craig Dawson nodded the Baggies into an early lead, before the same player rounded off the scoring 15 minutes from time.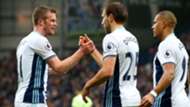 Henry feels Arsenal were masters of their own downfall, with few of those he played alongside likely to have put up with such a shambolic showing.
He told Sky Sports: "Three West Brom players could have scored [the third goal].
"I have never seen that in my playing career. Ever.
Arsenal on worst run under Wenger
"I would not have liked to go back in the dressing room if I did that and Jens Lehmann was still playing. He would have punched me, hit me round the head, got sent off. He did it before."
Arsenal were once again disappointing as a collective against the Baggies, with a disjointed display piling further pressure on under-fire Wenger.
Henry admits they have not been good enough of late, domestically and in Europe, with the Gunners now facing a fight to secure a top four finish and a return to Champions League competition.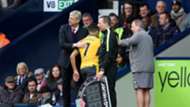 He added: "Nobody wants to see Arsenal play like that - especially me."
"It is not enough to have 77 per cent possession and you don't do anything with it. You play against a team with 23 per cent of the ball and they create more chances, have more shots on target. What is that possession supposed to say? 
Arsenal will go into freefall without CL
"You have to do something with it and they had nowhere near the desire, commitment and attitude required to win a game in the Premier League. 
"We can talk about whether Arsene Wenger or Alexis Sanchez will stay, let's talk about West Brom. You have to win at West Brom and they couldn't do it. Especially the way they lost, it was all about attitude."